Publika Kuala Lumpur Mall
If you have not been here, Publika Kuala Lumpur is a good place to hang around, meeting friends, do some shopping or simply enjoy your meals. This shopping mall is located in Solaris Dutamas and within the vicinity of Istana Negara. 
As there are many expatriates living around here, you will be able to find household items, groceries, restaurants and boutiques that you will not find in other shopping malls. Taylor's college and Garden International School are also located nearby.
Ben's Independent Grocer or BIG offers many kinds of groceries imported from UK, US, Japan and Korea. Food outlets that serve pizza, pastries and coffee are located in BIG if you need to take a break after your shopping. Hence if you would like to purchase food items that are imported, this is the place to shop.
Old typewriters outside one of the cafes at Publika Kuala Lumpur
There are a few blocks of shops with plenty of restaurants that serve Japanese, Korean, Western, Hungarian and Malaysian food. 
Rakuzen, TEN and Edo Ichi serve Japanese food. You can find a variety of Japanese cuisine to order hence this is a good place to take your Japanese friends if they prefer to take Japanese food while in Malaysia.
To cater for the increasing Korean community, you can consider San Nae Deul Korean BBQ. Take note that this restaurant serves pork hence it is not halal. The Cup Rice & Noodle caters for takeaway Korean cuisine. Another eatery is Namoo Korean Dessert Cafe n Bistro that serves delicious potato cake.
EAT Food Village
There are close to 50 Western restaurants within and around this mall. If you are adventures and have the budget, you can practically come here for Western meals everyday and still not be able to try all the outlets within a month.
The Red Bean Bag, Ben's, Fat Boys, London Town, Comida and Silver Spoon are some of them. Walk and look around to get yourself familiarise with this place before making your dining decision.
If you are on budget and prefer to try some authentic Chinese Food, try the EAT Food Village which is located at Level UG1, Publika Shopping Gallery. You can get a good meal for RM10-RM15 from many of the stalls located within the same floor.
The BM Yam Rice serves yam rice, soup, vineger pork, tofu and eggs that can be ordered separately. Try also the famous Sentul Ah Yap Hokkien Mee.
Get fried Kuey Teow from Lorong Seratus Tahun and Pan Mee from Kin Kin Pan Mee. Chicken rice, wantan mee, herbal soup, fish head noodle, beef ball noodle, bak kut teh and yong tau foo are also serve by authentic outlets from around Peninsular Malaysia.
Yam rice, wine chicken, pork vineger and eggs from BM Yam Rice outlet
Lorong Seratus Tahun Outlet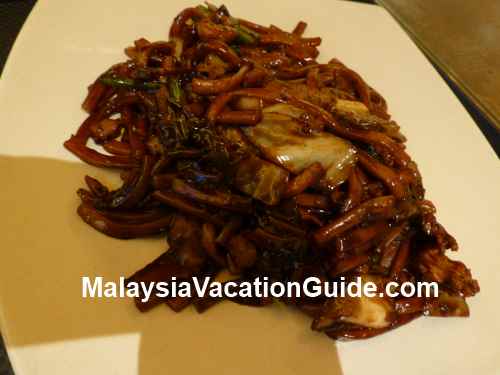 Sentul Hokkien Noodle
Publika Kuala Lumpur Contact
Address: Solaris Dutamas, No 1, Jalan Dutamas 1, Kuala Lumpur
Contact: +60 3 62117877
Operating Hours: 10.00 am to 10.00 pm daily.