Tropicana City Mall
Tropicana city mall is the latest shopping mall that was opened to the public on 18 Dec 2008. Located near Section 17, Damansara Utama, Damansara Jaya and SS 2, this mall is an ideal place to go for grocery shopping, entertainment and the place to have your meals.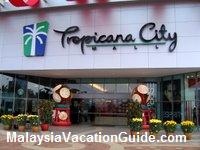 The entrance to the shopping mall.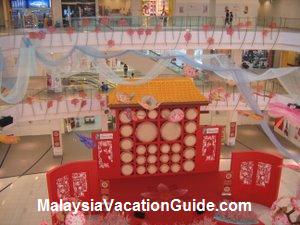 The interior view of Tropicana City Mall during the Chinese New Year festival.
Smaller in comparison to 1 Utama Shopping Centre, this mall provides shopping convenience to the residents of Petaling Jaya in general although many will want to come by and see what this latest mall has to offer. The unique features of this mall is the signature glass portal with changing colour hues that are lighted up at night as well as a glass-domed skylight.
Some of the outlets that you can see while here.
SHOPPING
Carrefour is the anchor tenant of this mall. It is located on the lower Ground Floor. All types of household goods and groceries can be purchased at this hypermarket. Other retail outlets include: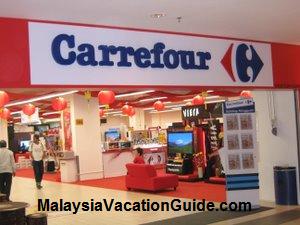 Carrefour is one of the anchor tenant here.
Best Denki - plenty of electrical and electronics goods such as camera, television,video recorder, Hi-Fi systems and computers.
Borders - all kind of books are sold here. If you are into books, plan to spend at least 2-3 hours here.
Toys"R"Us - toys and educational kits are sold here. Your children will enjoy going to this outlet as there are many items that they can play with. Selected items are on sale at certain time of the year.
Kid'z Spot - this is another outlet that cater to the needs of the children.
Other shopping outlets are BodyBar Natural Skincare shop, Kitschen, Gymboree, Shop-A-Lot and Nichii. Other product and services related to beauty and personal care, jewellery, sports, IT and optical can also be found in this mall.
The Borders bookstore has another outlet here as well.
FOOD At Tropicana City Mall
There are many variety of food and beverages outlets here. There are a wide selection of Western, Chinese, Vietnamese, Japanese, Korean and Malaysian food that you can try.
Esquire Kitchen - If you like chinese dishes, try the set meals that are usually offered during their promotional period.
Pho Hoa - If you are into Vietnamese food, try this outlet. Plenty of salad and vegetables combinational dishes can be ordered here.
Papa John's Pizza - Choose the variety of pizza and compared the taste with other pizzas that you have tried.
Subway - This is one of the many outlets that you will find in many other shopping complexes. Sandwich with a few type of fillings are offered here. Askfor the promotional set meal.
Penang Village - Try the local delicacy such as Penang Char Kuey Teow. A variety of spicy and non-spicy dishes are also offered.
Sushi Tei - This Singapore-based restaurant features a wide variety of tasty and creative Japanese cuisine.
San Francisco Steakhouse - Western style food and Steak in particular are offered here.
Kimchi Korean Restaurant - Try the Korean food here.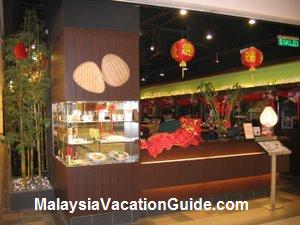 The Pho Hoa restaurant serves Vietnamese cuisine.
ENTERTAINMENT
GSC cinemas is now opened with 8 halls on the second floor. All the latest shows are screened here. As with any other cinemas, it is always a good idea to make your bookings in advance to avoid disappointment especially during the weekends.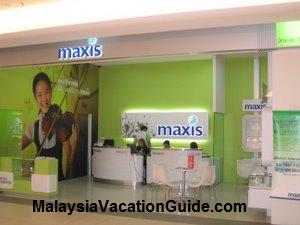 Maxis has an outlet here as well.
OPERATION HOURS
As with any major shopping mall, the operation hours is from 10am to 10pm Mondays to Sundays including public holidays.


GETTING TO TROPICANA CITY MALL
If you are coming from Kuala Lumpur, go into SPRINT Highway towards Petaling Jaya. Upon reaching the mall, turn left into Jalan SS2/72 and look for parking.
If you are coming from Kelana Jaya, go into LDP Highway towards Damansara Utama. Keep left after KDU and turn right at the traffic light underneath the flyover. After about 150m, turn left into Jalan Damansara Lama and immediately turn left to the ramp. Follow the signage into the building and look for parking.
If you are not driving, you can take the Kelana Jaya LRT Line and stop at Kelana Jaya LRT Station. From here, use theoverhead bridge to walk to the bus stop opposite the station (near 7-eleven outlet) and look for the free Tropicana City Mall shuttle bus that will take you to this mall. The pickup time from the station is:
9:30 am
10:30 am
11:30 am
1:00 pm 
2:30 pm
4:00 pm
5:30 pm
6:30 pm
8:00 pm
9:30 pm. 

The journey will take about 30 minutes depending on the traffic condition.