Sunway BRT
The Sunway BRT transportation system is now operating since 2 June 2015. The fare starts from RM1.60 to RM5.40 per trip effective 1 Aug 2015.  Senior citizens, students and those with disabilities will get 50% off by applying for the MyRapid concession cards at Pasar Seni. The 5.4km elevated tracks are built for the electric buses to move freely from the congestion of the roads within the townships of Sunway and Subang Jaya.
The modern electric bus
There are a total of 15 electric buses with the capacity to carry 67 passengers for each bus. It uses the automated fare collection system similar to the LRT system. Besides being eco-friendly, the bus also cater for the disabled.

You can park your vehicles at the 1,153 parking bays which are located at SunU-Monash Station. Currently, the automated car parking rate is RM4 per entry. The BRT has seven stations with a bus interval every 4-8 minutes depending on the hours of the day. 
Sunway BRT Stations
Sunway-Setia Jaya Station

is the connecting station for Port Klang Line Komuter Train

Mentari Station 
Sunway Lagoon Station is the station to stop to go to Sunway Resorts Hotel, Sunway Lagoon, Sunway Pyramid and The Pinnacle.
SunMed Station

is located near Sunway Medical Centre

SunU-Monash Station

is located near Monash University and Sunway University

South Quay
USJ 7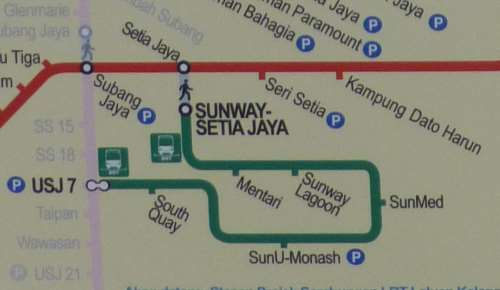 The BRT stations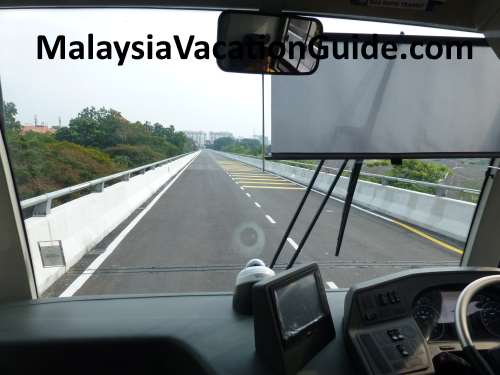 Elevated tracks for the electric buses to move
Video of the electric bus
The Sunway-Setia Jaya Station is connected to Setia Jaya Komuter Train Port Klang Line. You can now hop into any KTM station, head for the Setia Jaya Komuter Station. On arrival, get down and walk a short distance to the BRT Sunway-Setia Jaya Station to board the BRT to your next destination. The operation hours are from 6am to 12 midnight daily.
Automated Gate System
KTM Setia Jaya is connected to the BRT Setia Jaya
The Kelana Jaya LRT connectivity to this line will be through the USJ 7 BRT station.
Elevated walkway to Sunway Pyramid