Pulau Lang Tengah
An Island to be Discovered – Pulau Lang Tengah
Pulau Lang Tengah is one of the islands under the Redang Marine Park in the East Coast of Peninsular Malaysia – Terengganu. It is a small and tiny island situated between the well-known Pulau Redang and Pulau Perhentian. Though being overshadowed by these two islands, it is no doubt another gemstone to be discovered by tourists. And you will be amazed by what you see in this tiny island!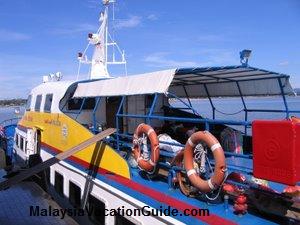 One of the speed boats used to go to the island from the mainland.
To get to this island, you will have to take a speed boat from Merang Jetty, which is approximately 24 km away from the island. The boat service is usually provided by the resorts through advanced booking. However, the service is also available by requesting the local agent in the jetty. The ride takes about 30 to 40 minutes and it can be an exciting journey for those who are adventurous as waves will continuously hit the boat and making the ride bumpy. Thus, it is advisable for those who might experience seasick to take some pills before boarding in order to avoid throwing up in the middle of the sea.
There are 3 resorts on this island, offering various facilities and room in different prices. The 3 resorts available are D' Coconut Lagoon, Redang Lang Tengah Resort and Lang Sari Resort. Due to the scarcity of accommodation in this tiny island, making reservation in advanced is advisable in order to ensure a hassle free vacation.
Video
See the scuba diving video of Lang Tengah Island and you will be amazed at the abundance of marine life here. 
Things To Do
This beautiful island is one of the islands of Redang Marine Park that has the most well-preserved marine ecosystem. It is surrounded by protected coral reef and it is also a haven for endangered species of fishes. There are more than 100 species of reef and fishes living in this area. Even the rare green turtle and hawksbill turtle can be found in certain diving spots.
You can discover this island through several activities. Scuba diving is the best ways to discover the amazing sea creatures under the emerald-like water. There are about 15 diving spots around the island – Batu Kuching, Terembu Kuning and Tanjung Nibong Laut are some of the famous spots where whale sharks and turtle can be spotted if you are lucky enough. Those spots are adjacent to each other where they can be reached by a 10-minute boat ride. Diving sessions can be arranged by the resorts where professional divers and diving equipments will be provided.
Apart from scuba diving, you can also opt to go for a simpler snorkeling activity as the calm water of South China Sea has made Pulau Lang Tengah a good place for snorkeling. The crystal clear water provides perfect visibility where you can see every single creature under the water. Swim with numerous fishes in an intimate manner is definitely an unforgettable experience. If you do not bring along your own snorkeling equipment, you can rent them from the resort at a reasonable price.
Fishing is also another interesting alternative in experiencing Pulau Lang Tengah. For those who love fishing, you can consider renting a boat and head to some of the fishing spots around the island. Some resorts in the island (for instance the Redang Lang Tengah Resort) do offer arrangement for fishing activity.
As this is a relatively small island, walking is another perfect way to experience every single detail of the wonderful Pulau Lang Tengah. The best time to visit this island is from March to October. Most resorts are closed from November to February due to the north-east monsoon season. Though it might not be as famous as other more commercialised islands in Malaysia, it is undeniable a perfect choice for those who would like to have a quiet and secluded vacation.