Tasik Selatan Terminal
Tasik Selatan Terminal is the terminal for buses to the southern towns of Malaysia. It is also known as South Integrated Transport Terminal Bandar Tasik Selatan (SITT) or Terminal Bersepadu Selatan (ITS). Prior to the building of the RM570 million bus terminal, the KLIA transit train (ERL), KTM Komuter train and Sri Petaling Line LRT are already in place.
This ultra-modern terminal has all the facilities to make your transit trip here a pleasant journey. Effective 1 March 2011, all buses to Negeri Sembilan (except to Seremban), Melaka, Johor and Singapore will be using this terminal.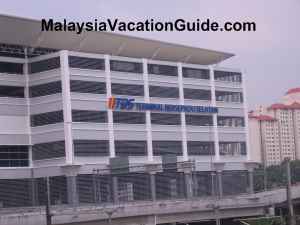 The main bus terminal from afar.
The major towns that will be serviced include:
Melaka Masjid Tanah, Melaka Sentral.
Johor Batu Pahat, Johor Bahru, Larkin, Kluang, Mersing, Muar, Pontian, Pasir Gudang and Segamat.
Singapore Beach Road, Grand Central and Boon Lay.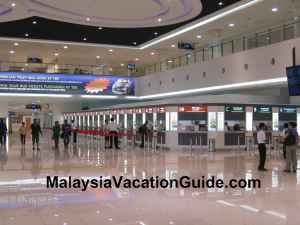 The modern terminal with ticketing counters and information counters.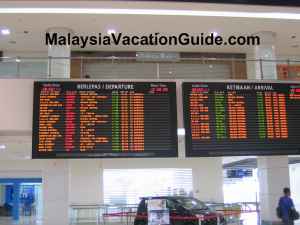 Arrival and Departure Information Electronic Board.
Facilities

The facilities here are excellent compared to other older terminals such as Hentian Pekeliling, Hentian Duta and Hentian Putra. The Tasik Selatan Terminal is a model example of a modern terminal. Some of the facilities are:
Customer Service Counters where you will be able to get assistance whenever you face any problem.
Restaurants and Bakery are plenty here with outlets such as Kenny Rogers, Baker's Cottage, Baker's Boy, KFC, Nasi Kandar, Starbucks and Secret Receipe once fully operational. The Food Court serves a variety of Malaysian cuisine.
Pharmacy shop is also here to cater for your medical or general needs.
7-Eleven is a 24-hour convenient store which is already operating here.
You will also need to produce your ticket for checking by the security personnel before proceeding to the departure platforms. This is a good practice to prevent touts from disturbing the passengers.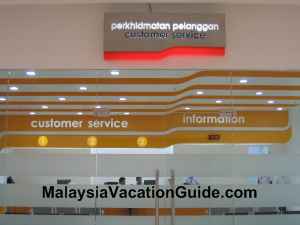 The customer service counters.
Luggage Storage
There are luggage storage that you can use located at Level 3 of the main terminal building. This is useful especially if you are going to the beaches and other parts of Malaysia and prefer to leave some of your stuff behind.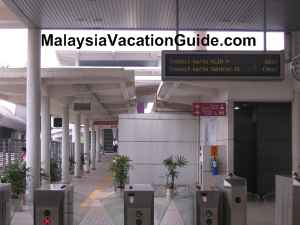 The entrance to ERL Station which is located within walking distance of the bus terminal.
Video
See the video of the modern terminal.
Getting Here
You can take the Sri Petaling Line LRT, Komuter train, ERL train to/from KLIA, RapidKL buses and get down at Bandar Tasik Selatan station.
Address:
Terminal Bersepadu Selatan - Bandar Tasik Selatan
Jalan Terminal Selatan
57100 Kuala Lumpur
Tel : +603 9057 5804 or +603 9057 5802

GPS Coordinates: N03°04'37.3" E101°42'39.8"