Kuala Lumpur Singapore Coach
Going to Singapore and Penang from the capital city of Kuala Lumpur or Petaling Jaya is now made easy with the introduction of Aeroline's luxury Kuala Lumpur Singapore coach services.

Check out also other options to travel from Singapore to Kuala Lumpur here.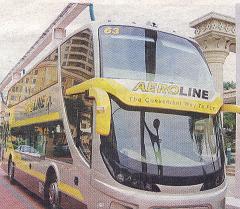 It is different from other traditional type of buses in that it is equipped with modern facilities such as power points for your laptop and a business class lounge in the double deck coaches that you can use. The lounge can accommodate up to 5 adults and is an ideal place to work on your laptop while you travel.
Food is served by cabin crew and is supplied by Subway Sandwiches, Caffe 1920 and other reputable caterers. Hot beverages such as coffee and tea are provided throughout the journey.
Where safety is concerned, the double deck coaches are equipped with modern electromagnetic and hydraulic retarders which enables the driver to bring the bus to a stop without using the standard brakes. The high tech air suspension system adds to the comfort of the ride.
The professionalism of the drivers are ensured with the use of a GPS data logger which will report the driving data of the coach during the entire journey. The data such as the speed of driving are analyze regularly to ensure that every journey is a safe and comfortable one.
The Kuala Lumpur Singapore Coach Aeroline services is now one of the alternatives that many travelers used instead of taking a flight.
Aeroline Coach Boarding Locations


Currently, there are 3 boarding locations in Klang Valley for the Kuala Lumpur-Singapore Coach services. They are located at Corus Hotel in Jalan Ampang, Bandar Sunway in Petaling Jaya and 1 Utama Shopping Centre in Bandar Utama.
The trip to Singapore will take approximately 5-6 hours and will stop at Harbour Front Centre. This shopping centre is located just beside the VivoCity, Singapore's largest shopping centre.
This place is a convenient location to go to other parts of Singapore as the MRT is located just inside the mall. Ferry Terminals to Indonesia and Star Cruise Terminals are also located here. The boarding locations including the travel to Penang Island from Klang Valley is as listed below.

Klang Valley


Aeroline Service Centre Bandar Utama
1 Utama Shopping Centre
No. 1 Lebuh Bandar Utama
47800 Petaling Jaya
Selangor Darul Ehsan 

Bandar Sunway
OB3.LG2.1A, Lower Ground Two
Oasis Boulevard, Sunway Pyramid
No 3 Jalan PJS 11/15, Bandar Sunway
46150 Petaling Jaya


Corus Hotel
Jalan Ampang
54200, Kuala Lumpur


Penang Island


GF-143A, Queensbay Mall, 100 Persiaran Bayan Indah, 11900 Bayan Lepas, Penang.
Johor Bahru
Ground Floor, Persada Johor International Convention Centre, Jalan Abdullah Ibrahim, Bandar Johor Bahru, 80000 Johor Bahru, Johor.

Singapore

Aeroline Service Centre Singapore
No #02-52, 1 Maritime Square
HarbourtFront Centre
Singapore 099253


Kuala Lumpur Singapore Coach Schedule


The trips to Singapore are available everyday from the 3 locations in Klang Valley. 

The ticketing call centre is Tel: +60 3 6258 8800 (Mon-Sun from 7:30am to 7:30pm)

Schedule from Bandar Sunway: 9:30am, 11am and 6pm daily

Schedule from 1 Utama: 8am, 10pm and 5:30pm daily

Schedule from Corus Hotel: 

6am, 8am, 9am, 10am, 12:30pm, 2:00pm, 3:30pm and 4:30pm daily
7am for Fridays Only 
6pm for Saturdays and Sundays Only 
6:45pm from Mondays to Fridays Only 


Price of Tickets


The tickets can be purchased online or by contacting +603 6258 8800 for booking two days in advance. 

Aeroline Double Deck Coach : One Way Ticket is RM95/adult and RM65 for children below 12 years old.


The ticket price for traveling from Singapore to Kuala Lumpur is:
Aeroline Double Deck Coach : One Way Ticket is S$50/adult and S$38 for children below 12 years old.