Pudu Sentral (formerly Puduraya Bus Terminal)
Puduraya bus terminal has been renamed Pudu Sentral effective 27 Aug 2011. It is located in the city of Kuala Lumpur. It used to be known as Hentian Puduraya and is now re-opened effective 16 April 2011 after being closed for renovation for over a year. Upgrading work started since 1 March 2010 and passengers can now enjoy a more conducive environment while on transit to other towns of Malaysia.
The refurbishment of this modern terminal costs RM52.7 million. With this opening, the temporary bus terminal at Bukit Jalil had been closed.
It serves bus passengers who would be travelling to the northern states of Malaysia i.e. Perak, Penang, Kedah and Perlis. CCTV cameras have been installed in various location to ensure the safety of visitors here.
Previously, this terminal was known for the many touts who tried to sell tickets to passengers. This new terminal will hopefully be able to eliminate this practices as there are better organised platforms, ticketing counters and security personnel.
The newly refurbished Pudu Sentral(formerly Hentian Puduraya)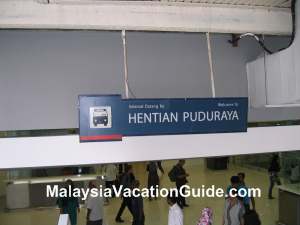 The entrance to the bus terminal using the pedestrian crossing bridge.
Some of the towns that are serviced include:
Perak - Kampar, Lumut, Ipoh, Bidor, Kuala Kangsar, Taiping, Sitiawan
Penang - Bukit Mertajam, Butterworth, Georgetown
Kedah - Baling, Sungai Petani, Kulim, Alor Star
Perlis - Kangar
Some selected towns to east coast such as Kuala Lipis and Raub in Pahang can also be taken here although the main bus terminal to east coast is usually taken from Hentian Putra. Star Shuttle bus goes to and fro to LCCT, the Low Cost Carrier Terminal Airport. If you are going to Genting Highlands, Resorts World Genting Highlands buses can be taken here as well.
Transnasional with website information at www.transnasional.com.my.
Konsortium Bus Ekspres Semenanjung with website information at www.kbes.com.my.
Edaran Ekspres
TM KL Ekspres
Start Coach
Shamisha Ekspres
Resorts World
Plusliner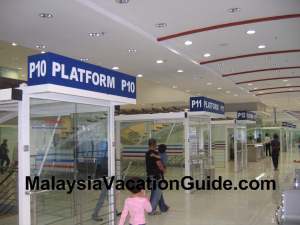 There are 21 bus platforms. Take note of the platform you are suppose to go to take your bus.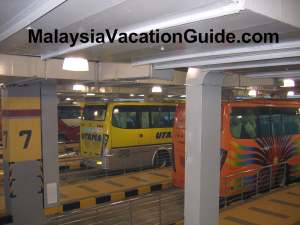 The platforms where the bus will park before leaving for the destination.
Bus Platforms and Waiting Area


Once you have purchased your ticket, enquire which bus platform number to board the bus.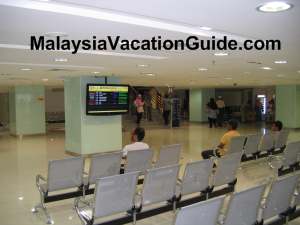 Wait at the comfortable air conditioned waiting area before taking your bus.
Shops 


There are many shops that you can have your meals or purchase some snacks before your journey. The food court is located at level 4.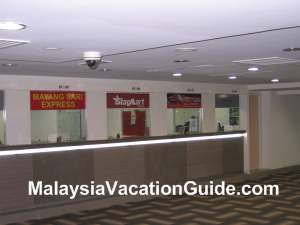 The ticketing counters.
Taxi Terminal 


There is a taxi terminal that will take you to various parts of the city. You can purchase the taxi coupon at the taxi ticketing counters.

Accommodation 


If you need a place to stay, a reasonably priced budget hotel within the terminal is the Ancasa Express @Pudu. It opened for business in October 2011.

Getting Here 


As this terminal is located in the city of Kuala Lumpur, taking the LRT is a better choice to avoid congestion. The nearest LRT station is the Ampang Line LRT Pudu Station which is about 5 minutes walk away from the terminal.
The other LRT station is Pasar Seni Station using Kelana Jaya Line. This station is about 10-15 minutes walk away from Puduraya Terminal. You will pass by Petaling Street as you walk towards the terminal.
Rapid KL buses also service this route.

Parking Fees
There is a car park that you can park your car. The rate as of April 2011 is RM3.00 for the first hour, RM2.00 for subsequent hour. If you are dropping passengers, try to get out of the parking within 15 minutes and you will not be charged. Monthly pass can also be purchased for RM100 (tenants) and RM150 (public).
Motorcycle is charged RM2.00 per day up to 12am. Monthly pass for motorcyclist is RM50.