Kemasik Beach
Kemasik Beach is one of the beaches in Terengganu that the locals go to in the evening and during the weekends. Take note that the weekends in the state of Terengganu are on Friday and Saturday. This beach is located north of Cherating and is between the town of Kijal and Kerteh.
If you are coming from Kuantan, use the coastal scenic highway route 3 towards Kemaman. After reaching Kemaman, go further up and you will reach the town of Kijal. Drive for another 10 minutes or so and look out for the sign "Pantai Kemasik". Follow the signage and you will not miss this beach.
The scenery of the beach during the night.
This beach has clean and clear water due to its location which is facing the South China Sea. There isn't any mud on the beach and hence this is a good place to take a stroll and enjoy the breeze of the wind. There are many palm trees that grow along the shore of the beach. There are some nice rocks at the end of the beach where you can take some photo shots as a momento of your trip to the east coast.
Food Stalls
There are a few food stalls here that sell local food such as the Keropok Lekor. It is made from fish meat that is grounded to a paste, mixed together with sago after which it is boiled. The Keropok Keping is the fried and crispy version. They are usually taken when hot and dip with chilly sauce. Fried cuttlefish can also be taken as finger food while you are here.
The movable stalls that are set up near the beach for your convenience.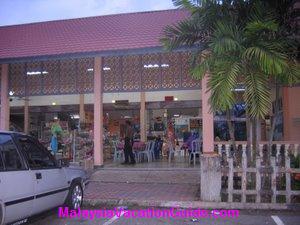 The permanent structure shops near the beach.

Facilities
As there is changing and toilet facilities here, you can play and swim at the beach from the months of April to October.The sea can be quite rough during the months of November to March as this time is the North Easterly monsoon season. If you have yet to see any fishing village on your trip here, drop by the fishing village which is located at the river mouth.
Enjoy your stroll time at the beach.