Batu Buruk Beach
Batu Buruk Beach or Pantai Batu Burok is one of the popular stretch of beach in Kuala Terengganu where locals go to during the weekends and in the evening. It is located just 1 km away from the city of Kuala Terengganu and is in front of Primula Beach Resort, a 4 Star Hotel.
The signage of the beach.
This stretch of scenic beach is sandy in nature and casuarina trees grow abundantly along the beach. The Cultural Centre is also located here and traditional games, stage performances are on display here on Fridays from 5 pm to 6:30 pm. The performances that you can see include the pencak silat, a form of Malay martial art, kite flying, sepak raga and top spinning.
Food Stalls
The facility here is as good as Teluk Chempedak Beach in Kuantan, Pahang. There are many food stalls that sell a variety of local food for your convenience. Ais Krim Goreng or Fried Ice Cream is one of the famous food here. Try also the Nasi Dagang, a traditional rice from Terengganu. The Keropok Lekor is another specialty of Terengganu that you should try. It is made from fish meat that is grounded to a paste, mixed together with sago after which it is boiled. The Keropok Keping is the fried and crispy version. They are usually taken when hot and dip with chilly sauce.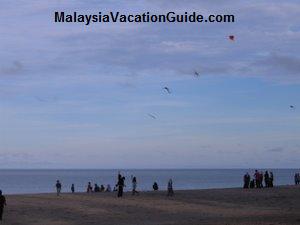 The scenic Batu Buruk Beach in Kuala Terengganu. Notice the children flying kites on a windy days especially during the monsoon season from November to March.
The crowd and food stalls in the evening.
The night market is on every Friday from 3 pm to 7 pm, a weekend holiday for the state of Terengganu where many extra stalls are set up to accommodate the throng of people who come here for a time of relaxation. The beach is well maintained by the municipal council and is one of the cleanest beach in the city.
Swimming here is not recommended as the waves are strong and due to the fact that it faced the open South China Sea. Horse riding for a fee is also a common sight here during the weekends. Beach soccer is also one of the activity that the youth indulge in at the beach during their free time.
If you are looking for a fast food restaurant to fill your hungry stomach, the A&W Restaurant is just located near theround about, about 5 minutes drive from Primula Beach Resort.
Primula Hotel.
Getting Here
Batu Buruk Beach is located at the south east of Kuala Terengganu. It is located near Primula Beach Resort. Another landmark is the Hockey Stadium which is located by the Jalan Pantai Batu Buruk road.
Enjoy your stroll and feel the breeze at the beach...