Proboscis Monkey Borneo Adventure
Borneo Adventure
If you are planning for your holiday to Sabah, why not consider going to Garama Proboscis Monkey sanctuary in Kuala Penyu? This is a trip that your entire family will enjoy as you will be cruising down the river for close to 2 hours where you can see the wildlife creatures that live in the wetlands. Remember to bring your binocular along as the elusive Proboscis Monkeys will not come near you unlike the silver leaf monkeys. You can only observed them from a distance.
There are many tour agents in Kota Kinabalu that offer this half a day river cruise at Garama. The cost is approximately RM180-RM200 per adult and RM150-RM180 per child.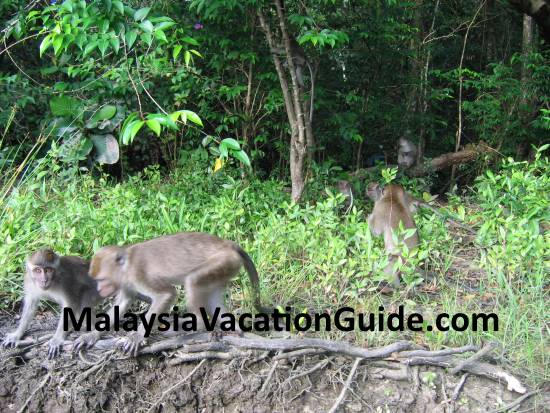 The monkeys looking for food near the rest area. You can get some bananas to feed them. However, this is not the Proboscis Monkey that you are looking for.

The tour usually starts in the afternoon where you will depart Kota Kinabalu towards Beaufort. The entire journey takes approximately 2 hours to reach Garama river. Along the journey, you will be able to enjoy the rural scenery where the lush greenery abound.
Once you arrived, you will walk on the elevated platform to go to the rest area for your tea break. After the tea break at approximately 4pm, your Garama Borneo Adventure begins..
The Garama River Cruise Borneo Adventure began, 8 of us in a motorised boat.

Proboscis Monkey
As you cruise along the river, you will be able to see some of the wildlife such as lizard and birds. As you continue to observe the trees, you will soon discover some long nosed monkeys with long tails and big bellies jumping around from tree to tree. A little bit more information about them...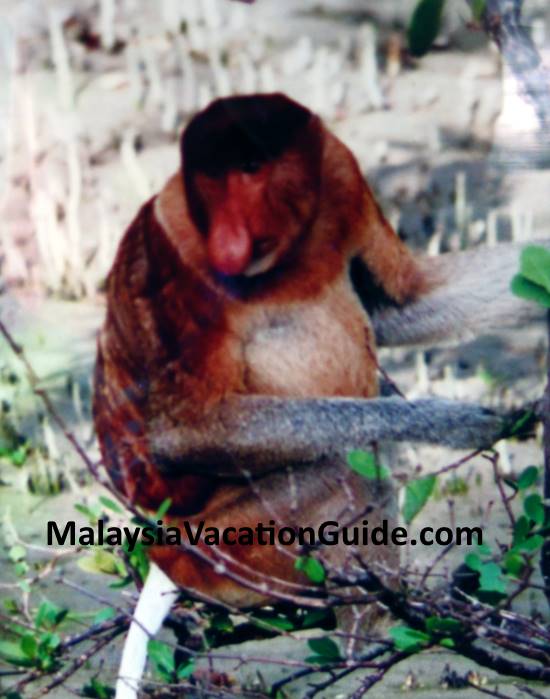 The Proboscis Monkeys are endangered species and are found only in the island of Borneo where Sabah, Sarawak, Brunei and Kalimantan are located. They live in some coastal areas of Borneo, one of which is Garama at Kuala Penyu.
Their scientific name is Nasalis Larvatus and the locals called them Long Nosed Monkey. They are reddish brown in colour and are arboreal(live on trees).
The main trait of the monkeys is that the males have long and large protruding nose and are much bigger than the females. The male can be as long as 72cm with a 75 cm tail and a weight of 24kg.
The female is smaller with a length of 60 cm and a weight of 12kg. Their tails are used for balancing purposes and are as long as their bodies.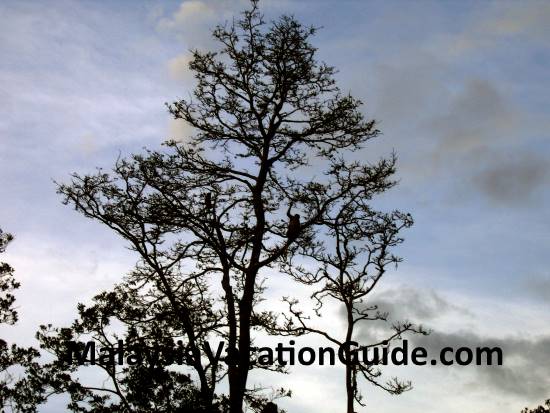 Proboscis Monkeys resting on top of a tree.

They have large bellies as their digestive system is divided into several parts. Their diet is highly specialised in that they only take trees of young leaves, starchy fruits and seeds. The food taken is fermented in the bellies which is the reason why their bellies are bloated up.

They will not be able to survive in captivity due to this reason hence you will not be able to see them in zoo.
They usually live in groups of 10 to 32 near the mangrove forests where fresh water and lowland rain forest abound. As they are "shy" animals, they will avoid human settlements.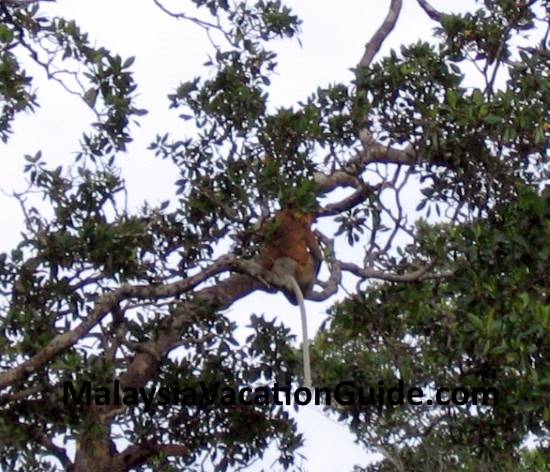 Another shot of the Long Nosed Monkey.

Water Buffalo

As your river cruise comes to an end, you will experience the beautiful sunset on the clean river sanctuary. Some water buffalo may be spotted bathing along the river. Local dinner will be served as you reach the rest area. Enjoy the sound of the insects and beautiful forest as you dine.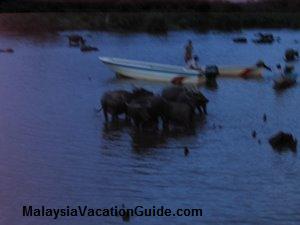 Water Buffalo.
After your dinner, try to go near the mangrove trees near the river bank and you may be able to see the fireflies that flicker in harmony.
This Garama Borneo Adventure will indeed be an evening well spent. You will want to come back for more..


Kota Kinabalu Accommodation
You may want make your base at Kota Kinabalu and do a day trip to see the monkeys. Kota Kinabalu or KK has a wide range of budget, boutique and luxury hotels available for you to choose from. Check and compare Kota Kinabalu hotels rates here.