Crocker Range Park
Crocker Range Park visitor's centre is about 12 km away from the town of Keningau. This range was gazetted as a park in 1984 due to its importance as water catchment area for the surrounding towns. The park was recognized as a biosphere reserve by the International Coordinating Council for Biosphere Reserve, a programme under UNESCO in June 2014.

This 75km long and 15km range covers an area of about 1,392 square km and is located to the south of Mount Kinabalu. It is also called "Taman Banjaran Crocker" in Malay language. The Kadazan dusun and Murut communities live in various settlements surrounding the range. It spans through eight districts in the west coast:
Ranau
Tuaran
Penampang

Tambunan



Papar 
Keningau
Beaufort
Tenom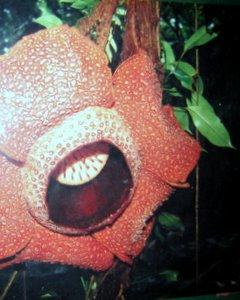 Rafflesia, the biggest flower in the world.
The headquarter of the park is located about 145 km from Kota Kinabalu where the visitor centre is. Basic facility was constructed and opened in 2004 where you can camp and do jungle trekking here. Bird watching is one of the natural attraction here. For those who are into greater challenge, you can do white water rafting at Padas River. Prior arrangement with tour agent is necessary to if you intend to jungle trek or white water rafting.

Flora and Fauna


Find out more about Rafflesia, the world's largest flower at The Rafflesia Information Centre on your way here. It is located near Tambunan. There are trails from this centre where the Rafflesia can be found. It opens daily from 8am to 3pm. Call the centre at Tel : +6 088 898 500 or +6 088 898 501 for more information.
This flower is a parasite which has no root, leaf or stem and its host is a vine called Tetrastigma.
It flowers usually at midnight after a rainy day and lasted only for a few days. You will be fortunate to see a real one flowering. After that, they will begin to rot emitting a rotten meat smell. Flies will come and as a result the plant is pollinated. The most common species found in Sabah are: 


Rafflesia Pricei
Rafflesia Arnoldii
Rafflesia Keithii
Rafflesia Tengku-Adlinii
Look out also for the following flora at this dipterocap forest.

Oaks
Chestnuts
Conifers
Orchids
Rhodedendrons
Pitcher plants
You may be able to spot some of the animals and birds here:
Civet Cats
Long-Tailed Macaques
Pig-Tailed Macaques are intelligent and can be trained to pluck cocunuts which are high above the ground.
Wild Pigs
Orang Utans
Gibbons
Furry Tarsier or "Kera Hantu" in Malay language
Hornbills
Pheasants
Partridges
Golden-naped Barbet

Camping
Contact Sabah Parks for permit if you intend to camp here.
Contacts of Sabah Parks:
Lot 1-3, Block K, Ground Floor
Sinsuran Complex
Kota Kinabalu
Sabah
Tel: +6 088 212 719 or +6 088 211 881
or directly to:
Crocker Range Park: +6 019 862 0404

Video

See the video of the park.
Crocker Range Park Fees and Opening Hours
Admission and Camping Fees

Admission fee is RM3 per person.
Camping fee is RM5 per adult and RM1 for those below 18 years old.

Opening Hours
8:00am to 5:00pm daily

Getting Here
If you are coming from Kota Kinabalu, take a bus to Keningau town at the "Long Distance Bus Station" near Merdeka Field. It will cost you less than RM20. Once you arrive in Keningau, take a taxi here. The one-way fare is about RM40/taxi.