Sungai Buloh
Sungai Buloh is located in the Petaling district and is usually associated with the biggest leprosy settlement centre in the 1930s. The other major site is the Rubber Research Institute of Malaysia or RRIM that has a rubber research centre and huge rubber plantation.
The government has decided to develop this site into mixed housing and commercial development in the near future.
Today, if you want to purchase potted plants, flowers, pots, fertilizers and water fountains, there are many shops located along Jalan Sungai Buluh that you can go to. There are easily more than 30 shops that are located along this stretch of road.
Go around and find the best bargain. Some shops also sell various kinds of fishes and turtles if you intend to set up a fountain in your garden.
Within the vicinity of these places is Bandar Baru Sungai Buloh which has a few reasonably priced Chinese restaurants that you can try. The village itself is not that organized but some of the dishes are quite unique.
If you are into fishing, there is a 24-hours fishing pond operated by Jin Wing Fishing Pond located just beside Yin Her Restaurant. The rate is RM7 per hour or RM20 for 3 hours.
Lee Hong Kee Restaurant (formerly LYJ )
This air-conditioned restaurant is usually packed during lunch and dinner on weekends. Hence, it is better to come early if you do not want to be disappointed. There are many special dishes that you can try.
If you have around 10 people, the dish to try is called "Poon Choi" which is a dish that contains roast duck, mushrooms, chicken, fried prawns, chicken feet, braised pork, oysters, broccoli, cauliflower and stuffed fish. Take note that you will have to book one day in advance for this dish as a lot of preparation is needed.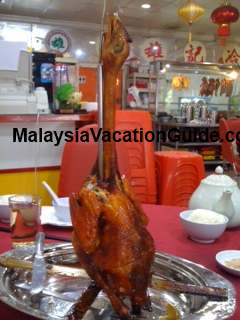 Whole Roast Chicken.
If you have fewer people, you can still try dishes such as claypot "Tilapia" (Grass Carp). This dish is tasty but you will have to be careful while eating as this fish has quite a lot of small bones. The whole roast chicken is another special dish that you can order.
It is served on a plate with the whole chicken. You will be provided with a scissor and plastic gloves to cut the chicken yourself. Can be a bit messy but nevertheless a good experience for both your family and friends.
Other dishes you may want to try include roast duck, stir fried "paku pakis" vegetables, braised pork ribs, clams and roast chicken.
This shop operates from 11:30am to 2:30pm for lunch and 6pm to 10pm for dinner. It is closed on Monday nights.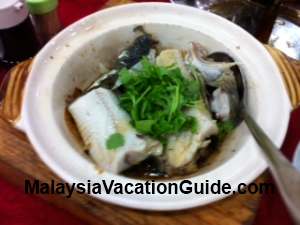 Claypot Fish.
Address:
3 Jalan Kati GU 19/G, Kampung Baru, Sg. Buloh, Selangor.
Tel: +60 3 6140 2678

Yin Her Restaurant & Fishing Pond
The other restaurant here is called Yin Her Restaurant and it is located just beside a fishing pond. This restaurant operates from 11am to 10:30pm daily. Typical chinese dishes such as fried prawns, deep fried fish, steam fish, yam basket, clams, stir fried vegetables are served here.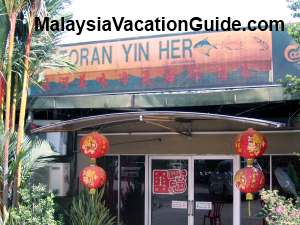 Yin Her Restaurant.
You can choose to dine in the air-conditioned section of the restaurant or the open-air tables overlooking the fishing pond.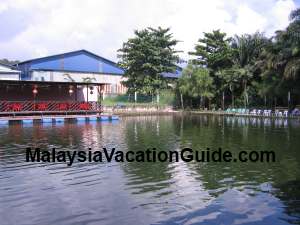 Fishing Pond.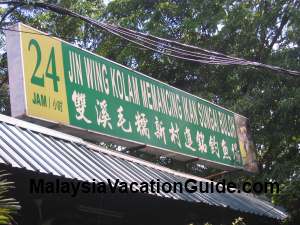 The signage at the entrance to the pond.
The 24 hour fishing pond is located just beside the restaurant.
The GPS coordinates of Yin Her Restaurant and Jin Wing Fishing Pond is N03° 11.752' E101° 34.479'.
Address:

AL 114
Jalan Welfare
Kampung Baru Sungai Buloh
47000 Selangor

Tel: +60 3 6156 5876