Taman Putra Perdana Putrajaya
The Taman Putra Perdana or Putra Perdana Park is located in Precinct 1, within walking distance from Putrajaya Shangri-La Hotel. This is a public park and is opened to all without any admission fee. If you are a guest of the Shangri-La Hotel, ask the reception about this park as it is within walking distance from the hotel.
A view of Wawasan Bridge and Government complexes from Taman Putra Perdana.
With a large area of about 158 acres, you will find this park a good place to unwind. This park is an ideal location to enjoy a panoramic view of Putrajaya. Here are some of the landmarks and facilities that you expect while visiting this park.
Mercu Tanda Plaza and Fountains
This 78 metres structure is designed in the shape of pyramid and is a proud symbol of Putrajaya. There is a time capsule in front of this monument that contained a number of official documents on the history and development of Purtrajaya.
You will also see a plaque that commemorates the launch of Putrajaya by Tun Dr Mahathir Mohamad, the former Prime Minister of Malaysia on 29 August 1995. Within the vicinity of this plaza are some binoculars that you can use to take a closer view of the Wawasan Bridge, the government complexes, the Putrajaya Lake and Botanical Garden.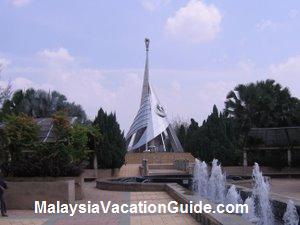 Notice the 78m Mercu Tanda Plaza at the background.
There are 11 fountains which are lighted up at night, giving visitors a good contrast of the night and the day. The fountains in a way help to create a cooler ambient as the daytime temperature can be as high as 32°C to 33°C. There are ample rest areas that you can sit while you are here. Traditional Shelters known as Wakaf are built throughout the park for visitors to rest.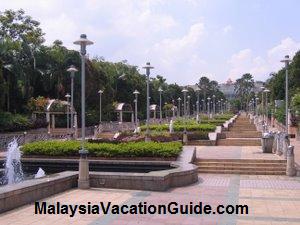 Notice the fountains and traditional shelters in the background.
Flora and Jogging Tracks
There are about 54 species of shade trees planted in this park. On top of that, there are also 17 palm species, 63 kinds of shrubs, 19 species of groundcover and ferns, and 5 species of climbers. Other colourful plants include the yiang yiang, frangipani and Kedah gardenia.
Take the opportunity to stop by Fragrance Garden where you can smell the nice aromas of plants such as the Gardenia jasminoides, also known as Bunga Cina. Others include the Melati or Wrightia Religiosa, Cempaka Telor or Magnolia coco. These flowers are usually used during big celebrations and weddings to add natural fragrance to the place.
Joggers will be glad that there are over 2km of jogging tracks and pathways that are built around this park. Enjoy your jog in this clean park but remember to bring drinking water and cap if you are jogging the the afternoon. Late evening is the best time to jog as the environment will be cooler.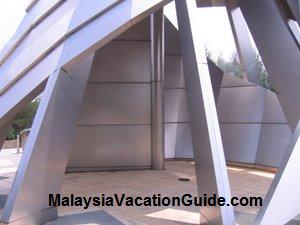 A close-up view of Mercu Tanda Plaza.
Restrooms
Basic restrooms facility is provided here for your convenience. They are located just by the main car park.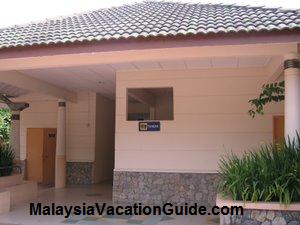 Basic Restrooms facility is provided here.
Getting To Taman Putra Perdana 
Go towards the biggest roundabout of Putrajaya where you will be able to see the Government complexes. Look for Shangri-La signage and follow the direction to this hotel. The park is located within the vicinity of the hotel.
Operation Hours
Monday-Friday: 7am to 8pm
Weekends, School and Public Holidays: 7am to 10pm
Admission is FREE