Putrajaya Sentral
Putrajaya Sentral is the main public tranportation hub of Putrajaya. It is a smaller version of Puduraya Station in Kuala Lumpur. Located at the west side of Putrajaya, this is the place where public transportation from other parts of Selangor stop. The Express Rail Link that links KLIA to KL Sentral has a station here.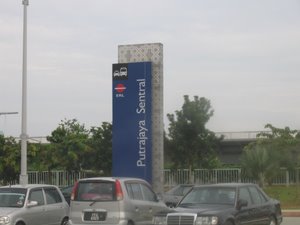 This is the place where you will stop for your next transit to various parts of Putrajaya.
If you prefer to take buses which are very much cheaper compared to the ERL, the two major bus companies that are operating here are Rapid KL and Putrajaya Buses. Rapid KL take passengers from outside of Putrajaya from places such as Bandar Utama, Serdang and Cyberjaya whereas Putrajaya buses routes are confined to within Putrajaya and surrounding areas. The Monorail project that was supposed to link the various parts of this new township has been put on hold due to the slow down of the economy.
Rapid KL Bus Routes

RapidKL is one of the main bus companies that operates in this terminal. The main routes and the bus no are:
U42 : Putrajaya - Serdang KTM Komuter
This route takes you to Dataran Putrajaya, Presint 8, Tasik Putra Club, Sri Perdana Bridge, Persiaran Sultan Salahuddin Abdul Aziz Shah, Botanical Garden, Persiaran Utara, SKVE (South Klang Valley Expressway), BESRAYA highway before stopping at Serdang KTM Komuter train station.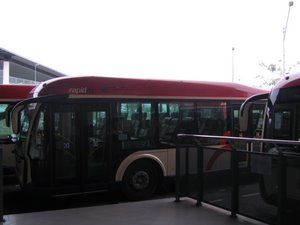 Rapid KL buses.
U43 : Putrajaya - Bandar Utama
This route uses LDP highway and pass by TESCO Puchong, IOI Mall Puchong, Kelana Jaya Giant Hypermarket, Kelana Jaya LRT, Kolej Damansara Utama (KDU), Uptown Damansara Utama, Sri Pentas TV3 and 1 Utama Shopping Centre.
T429 : Putrajaya - Cyberjaya Transport Terminal (CTT)
This is the bus to take if you intend to go to Cyberjaya, the Intelligent City of Malaysia. It will pass Century Square, Multimedia Development Corporation headquarter, Cyberjaya transport Terminal, Multimedia University, Cyberia Crescent Condominium and Cyberia Smarthomes.
E1 : Putrajaya - Terminal Jalan Sultan Mohamad via Lebuhraya Kuala Lumpur-Seremban
This express bus route go to terminal Jalan Sultan Mohamad in Kuala Lumpur using the KL-Seremban Highway.
Putrajaya Bus Routes

Putrajaya buses take you to places within the city of Putrajaya. There are about 5 type of bus services that you can take depending on the time and location that you would like to go.
Putrajaya L Buses
The L buses with numbers L01, L02, L03, L04, L05, L06, L07, L08, L09 and L10 will operate from 6:30am to 7:30pm daily except Sat, Sunday and public holidays.
Putrajaya N Buses
The N buses with numbers N01, N02, N03, N04, N05, N06, N07 and N08 will operate from 8pm to 12:00 midnight daily except Sat, Sunday and public holidays.
Putrajaya J Buses
The J buses with numbers J01, J02, J03, J05, J08 and J09 will operate from Putrajaya to outside of the city such as Cyberjaya, UNITEN and IOI City Mall.
Putrajaya D Buses
The D buses with numbers D01 to D36, S01 and S02 are designed to cater for office people. It will operate from residential areas to the major offices in Putrajaya. Operation time is from 6:30am to 8:30am and 4:30pm to 6:30pm.
Putrajaya School Buses
This service is provided to fetch children from their houses to the schools in Putrajaya. 
Here is a comprehensive details of the route for each of the 5 type of services provided by Putrajaya buses.
KLIA Transit Train
The KLIA-KL Sentral Transit Train stops at 3 other locations. They are KLIA-Salak Tinggi-Putrajaya/Cyberjaya-Bandar Tasik Selatan-KL Sentral.
The Putrajaya/Cyberjaya station is located at Putrajaya Sentral.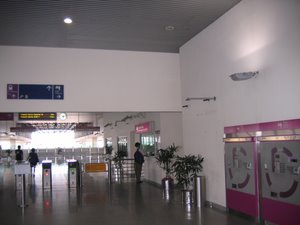 KLIA transit train Putrajaya/Cyberjaya train station.
For KLIA-KL Sentral route, trains start operation from KLIA at 5.52am. The last train leaves KLIA at 1:03am. It takes about 13 minutes to reach Putrajaya from KLIA with a train frequency of 30 minutes. The fare from KLIA to Putrajaya/Cyberjaya station is RM6.20/adult and RM3/child.
For KL Sentral-KLIA route, trains start operation from KL Sentral at 5.33am. The last train leaves KL Sentral at 12:03am. It takes about 17 minutes to reach Putrajaya/Cyberjaya from KL Sentral with a train frequency of 30 minutes. The fare from KLIA to Putrajaya/Cyberjaya station is RM9.50/adult and RM4.50/child.
If you travel to Putrajaya/Cyberjaya frequently, there are monthly travel packages that you can purchase from the station.

Taxis
There is a taxi station that is located here. However, the rate for taxi is definitely much higher than if you take bus. You can request for the rate from the counter located here before taking the taxi. The meter starts at RM4 the moment you step into the taxi. It will probably cost you about RM8-RM15 from the station to the surrounding areas in Putrajaya.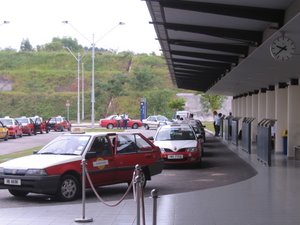 If you are in a hurry, taxis are one of the most convenient mode of transport here. However, the price is higher compared to using buses to reach your destination.
Parking Bays
There are plenty of parking bays for you to park your vehicles.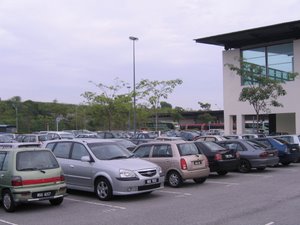 There are many parking bays for you to park your vehicle.
Lockers 
If you are thinking of storing your luggage here, there are lockers that you can rent at this terminal. This is another convenience provided for you to travel light in this city.
Getting Here
This main transportation terminal is located at the western side of Putrajaya. If you are coming from Puchong or Damansara Utama using the LDP Highway, go towards the direction of Putrajaya/Cyberjaya. After the last toll, go straight until you see the Putrajaya Sentral signage on your left. Turn left and you will reach this terminal in no time.

Best of Putrajaya Tour
You can now take a tour of Putrajaya everyday from this terminal. This affordable tour is initiated by Putrajaya Corporation and is on at 10:30am and 2:30pm (3:00pm on Friday). It will start from Terminal A, Platform 6 and will end at this terminal as well. Duration of tour is between 90 minutes and 2 hours. Tickets can be purchased at the Putrajaya Sightseeing Counter at Putrajaya Sentral.
You will be able to see the Prime Minister's residence and office, Taman Warisan Pertanian, Putra Mosque, PICC, Botanical Garden and Seri Bakti Bridge. Tourists can take photos at Taman Putra Perdana, Seri Wawasan Bridge and the Boulevard. Call +603 8887 7786, +6 019 236 1796 or +6 019 347 8012 for more information.