Malaysia National Library
Malaysia's premier library which is also popularly known as Perpustakaan Negara Malaysia is located at Jalan Tun Razak. If you are visiting Istana Budaya and the National Art Gallery which are also located along Jalan Tun Razak and are within walking distance of each other, drop by this library and get some information about this place. You will appreciate the architecture of this building, so remember to bring along your camera for a shot or two.
The adult books loan section which is located in another building in the vicinity known as Wisma Sejarah.
The children's section library which is located just beside the cafeteria of the library.
The design of the National Library is unique in that it is designed based on a traditional Malay headgear known in the Malay Language as the "tengkolok". The roofs of the building resembles this headgear. The traditional songket design is also embedded on the roofs of the building, a pride and part of the Malaysian culture.



Facilities at National Library
As the nation geared towards a developed nation by 2020, the quest for knowledge is one of the key elements that the people will have to pursue. The National Library has many books, literatures, magazines and other multimedia facilities to help people from all walks of life increase their knowledge.

Some of the other facilities that you can enjoy here include:

Hypermedia centre for children where the use of Information Technology and multimedia are used extensively.
Hypermedia centre for adults where 30 units of computer with multimedia and IT facilities that are provided for your use.
Beg Keeping Room
Free Carparks
Children's Theater
Wheelchair Path
Canteen
Room
Research Room
Lifts
If you are interested to borrow books, membership can be applied within the same day. All you need is your MyKad. Children will need to have MyKid to apply for membership. For those who do not have MyKid, you will need to bring along a photocopy of your birth certificate. Each member can borrow up to 3 books for a duration of 3 weeks. Renewal of books can be done by phone for another 3 weeks.

Getting Here
Take the STAR LRT and stop at Titiwangsa Station. Take a taxi from here. You can also reach here by taking a 20 to 25 minutes walk from the station.
Take the PUTRA LRT and stop at KLCC Station. Take a taxi from here.

232, Jalan Tun Razak
50572 Kuala Lumpur
Tel: +603 2687 1700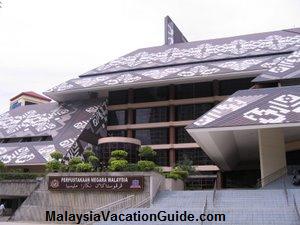 Operation Hours
Mondays: Closed 
Public Holidays: Closed
Tuesdays-Saturdays: 10:00am to 7:00pm
Sundays: 10:00am to 6:00pm