Alamanda Putrajaya
Alamanda Putrajaya shopping mall is currently the only shopping mall that serves the residents of Putrajaya and surrounding towns. It was opened to the public in August 2004 and has over 180 retail outlets.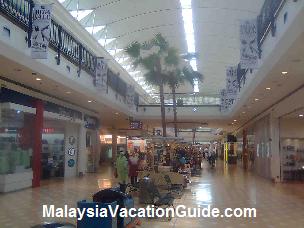 The spacious and modern shopping mall.
Being the only mall here, it is usually packed during the weekends where many residents around here will bring their family for a time of relaxation and shopping. Located at Precint 1, this mall has about 3,000 car park bays. The parking fee is RM1 for the first 2 hours and RM1 for each subsequent hour. During weekends and public holidays, the rate is RM2 for the first 3 hours and RM1 for each subsequent hour.
Shopping
Carrefour, Parkson, Cold Storage are the anchor tenants of this mall. You will be able to purchase household items and groceries from these three major shopping outlets.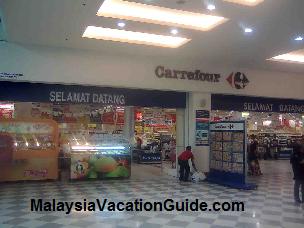 Carrefour Putrajaya. Get your household items here.
Cold Storage at Alamanda Putrajaya. Get your groceries here.
Entertainment
GSC cinema at this mall is the only cinema in Putrajaya. People from surrounding areas such as Cyberjaya will come by here to see the latest movies especially during the weekends.
If you are into bowling, the ARL Bowling centre is opened everyday including public holidays. This bowling alley has 26-lanes and WIFI Hotspot broadband services. The operation hours is from 9am to 1am with price ranging from RM4 to RM6 per game depending on the time of your game. It is usually more costly during the weekends and in the evening.
Those of you who are into karaoke will be glad that there are rooms available for groups with standard room of RM25/hour. Family room is charged RM35/hour.The Karaoke centre is known as SUPERSTAR Karaoke.
Pos Malaysia has a branch here to cater for your postal and other services need.
MPH Bookstore is located at the Ground Floor
Food
The food court is illuminated by natural lighting with many retail outlets which offered a variety of food for you to choose from. Other food outletsinclude:
Johnny Steamboat offers DIY cooking where an electric pot is used to boil the ingredients such as fish ball, chicken ball, vegetables, mee hoon, eggs according to your pace. An ideal place if you have the time to spare.
Penang Village has another outlet here which offers Malaysian food. Both spicy and non-spicy dishes are available here.
Sri Ayuthaya offers original Thai food. If you are into spicy and Thai culinary, this is the place to dine.
Sushi King offers Japanese food.
Secret Recipe, Rotiboy, Manhattan Fish Market and The Coast are also located here. Other fast food outlets are A&W, McDonald, Pizza Hut and KFC.

Operation Hours
As with any major shopping mall, the operation hours is from 10am to 10pm Mondays to Sundays including public holidays.
Address
Alamanda Shopping Centre
Jalan Alamanda, Precint 1
62000 Putrajaya
Wilayah Persekutuan

Tel: +6 03 8888 8882

Getting here
If you are using the LDP, go to Putrajaya and follow the Precint 1 direction towards the Government offices. You will pass by the biggest roundabout inPutrajaya. Follow the signage to Alamanda and you will not miss it.
You can also take the NadiPutra at various bus stops in Putrajaya to go to Alamanda Shopping Centre. If you are not sure, you can always ask the bus driver who will be more than willing to help you.