Jonker Street Melaka
If you are looking at a list of "must-go" places in Melaka, you will find that Jonker Street will always be at the top of the list. It is also a highly recommended place for those who would like to discover Melaka in an interesting and interactive way.
If you are planning to spend an hour there before hopping to another major attraction, think twice as it is not an ordinary "street" – you can spend a whole day there just to check out the attractive shops along the street.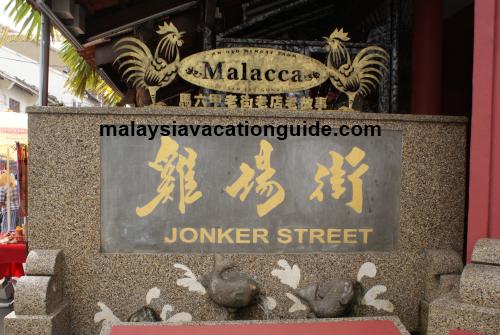 Jonker Street Signage
The entrance to the famous street of Melaka
Located at Jalan Hang Jebat, this street is also known as Jonker Walk. At an easily accessible location, some people might perceive it as nothing more than a straight and narrow street.
However, once you stepped into the entrance of the street, you will be amazed by what you see in each and every distinct shop. Along the street, you can find shops selling unique antique, wood-craved statues, interior and household products, fashionable clothes, colourful accessories and various souvenirs.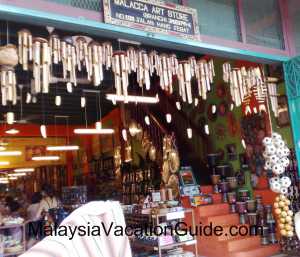 Get some souvenir along this popular street while you are here.
The main souvenir that you will be easily attracted to is probably the colourful clogs. Made by wood and painted with striking flowery pattern, the clogs are available in various colour such as red, yellow, purple and blue.
You can even find those clogs in different sizes for both adult and children! These modern type of clogs are "invented" from clogs that old nanny wore in the olden days, which was just a simple one with red rubber strip and no colourful painting. Today, these clogs are just another hit item here!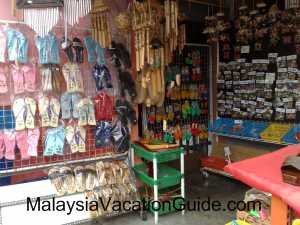 Another souvenir shop. Notice the colourful clogs at the left hand side of the picture.

Souvenirs From Jonker Street
Promised to get some nice souvenirs of Melaka for friends? Here is the best place to source some unique souvenirs without having to burn a hole in your pocket. Different shops along the street sell souvenirs like key chain, beautiful wind chimes made by sea shell and photo frame.
If you are looking for something even more extraordinary, wood craving will be a good choice. Wood-craved statues of different type of animals are also available in Jonker Street.

For those who are looking for "personalized" souvenirs, go for seal engraving. It is where you can engrave names or initials of Chinese character on a small stones and use it as a personal stamp.
Apart from the ordinary stone, you can also opt for something fancier – stones with motives like tiger, dragon or others. Prices for seal engraving are varied depending on characters you would like to engrave and stones you prefer.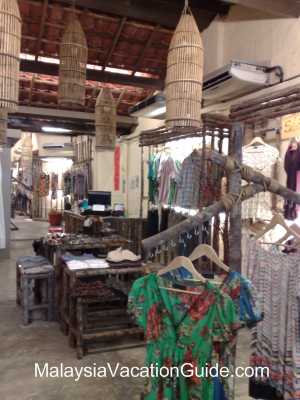 A shop that sells boutique as well an assortment of handicraft.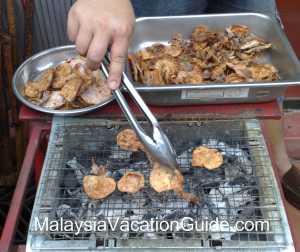 Try the crunchy barbeque squid here.
Besides selling souvenirs, shops in Jonker Street also sell pretty apparels. Most of the boutiques are renovated in an amazing way, featuring natural theme by utilizing earth tone colour for wall, table and even hanger.

Even though most of the boutiques are in a relatively small size if compared to retail outlet in cities, they provide comprehensive apparel ranging from blouse, dress, T-shirt, pants to matching bags, accessories and hat!

Tired of walking along the street and checking every attractive shop? At Jonker Street, there are numerous café and restaurant that sell local delicacies. The most renowned among tourist will be Geographer Café located at the middle of the street. Painted in yellow with striking green window pane, the café is another landmark in the street.
You can also feast your palate with local delicacies such as Chicken rice ball, curry noodles, assam fish and dessert like cendol. Choose from a wide range of restaurants that sell local delicacies along the street. There are also stalls that sell mouth-watering snacks such as pineapple tarts, dodol (sticky sweet delicacies) and crunchy barbeque sun-dried squid.
For those who are visiting Jonker Street on Friday, Saturday and Sunday, you will be able experience the same place in different ways. During these 3 days, there will be a night market starting from 6.00 pm to 12.00 am where there will be additional stalls along the pedestrian street. No matter day or night, Jonker Street is not merely a narrow street with shops. It is a discovery into the cultures of Melaka.