Royal Selangor Club
If you are visiting Merdeka Square or the National History Museum at Jalan Raja, remember to drop by Royal Selangor Club and see the mock-Tudor structure that was founded in 1884. It is located opposite Sultan Abdul Samad building, another landmark attraction in the city of Kuala Lumpur.
At its inception, the club was a small plank building with thatched roof. It serves as a social and cricket club to the expatriate community during the rule of the British in Malaysia.
In 1890, the building was replaced with a two-storey timber structure designed by AC Norman, a government architect. In the early 1900s, this club used to host theatrical performances as there was no town hall available at that time. In 1910, the club was rebuilt with a design similar to mock-Tudor house by architect AB Hubback.
In those days, this club used to be known as "The Spotted Dog", a nickname that originates from the Police Commissioner's black and white Dalmatians dogs. The dogs were often taken by his wife to the club.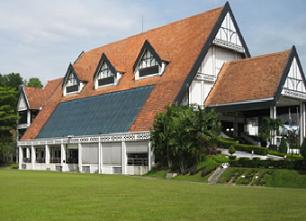 The historical mock-Tudor style architecture still stand solid today.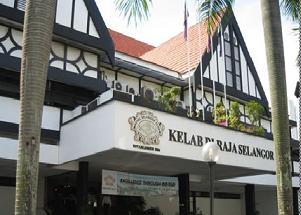 The main entrance to the club with its distinctive black and white facade.
In 1979, the club was again rebuilt by architect Fong Ying Leong after a fire razed the building in the year 1970. Over the years, the club's membership began to include lawyers, VIP Malaysian civil servants and other important people in society.
The club is exclusively used for members and has many sporting facilities such as swimming, billiard, chess, darts, reading room etc. Food and beverages outlets that serve Japanese, Chinese and local cuisines are among the other facilities here.

Getting Here
Take the LRT and get off at Masjid Jamek station. This building is approximately 10 minutes walk from the station. You can follow the Dataran Merdeka or National History Museum direction if you are not sure. They are located in the vicinity of each other at Jalan Raja.