Kuala Lumpur Railway Station
Kuala Lumpur Railway Station is one of the historical building in the city of Kuala Lumpur which still attract historians and tourists to this place. The building with Moorish architecture design was completed in the year 1910 as a hub for Malaya's rail transportation system. It has tall minarets and arches that are still in good condition today.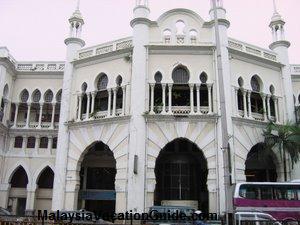 The historical Railway Station.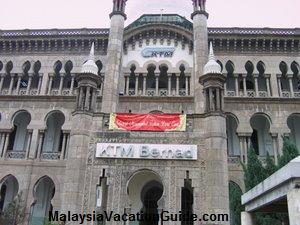 The Railway Station Headquarters opposite the Station.
Located at Jalan Sultan Hishamuddin, the building was refurbished in the year 1986 with additional facilities such as air conditioned waiting halls, stalls and information counters. With the completion of the new transportation hub of KL Sentral, the central hub for the railway system has now been relocated to the newer facility. This railway station is currently used as one of the station of KTM Komuter and as a bus station for NICE Executive Coach and Plusliner Economy Express that services the main cities of Peninsular Malaysia and Singapore.
Opposite the station is the headquarters of KTM Berhad office. It was designed by a British architect called A.B. Hubbock in the year 1913 and the construction of the building was completed in the year 1917 after interruption by the First World War. You can visit the foyer of the building and take some pictures if you want to. The other floors are not opened to the public.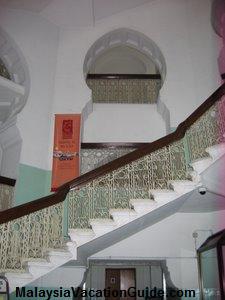 The interior design of the headquarters.
Getting Here
Take the KTM Komuter train and stop at Kuala Lumpur Station which is located inside this building. Walk out and you will be able to see the architecture of the building. Use the underpass to go to the KTM Berhad Headquarters for more pictures.