Green Sea Turtle
If you happen to visit Lumut, Teluk Batik, Pangkor Island or are staying in Swiss Garden Damai Laut, take some time to drop by the Segari Pasir Panjang Turtle Hatchery Centre. The Pasir Panjang beach here used to be the favorite place for sea turtles to come and lay their eggs before going back to the sea. However, due to human intervention and pollution, there are not many occasion where one can see this happening.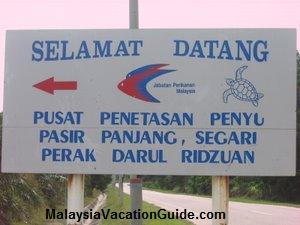 The signage that directs you to the Pasir Panjang Turtle Hatchery Centre.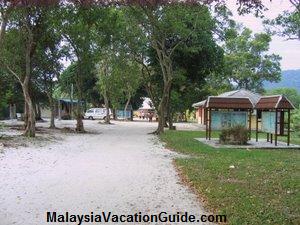 The entrance to the Centre.
In the effort to ensure the survival of these turtles, then government has taken the initiative to breed the green sea turtle here and released them to the sea. For those who are new to turtles, there are only 7 species left that are found in the world today. Their existence goes back to the age of the dinosaurs, some 150 million years ago. Of these, 4 of the species namely Leatherback, Green, Hawksbill and Olive Ridley turtles can be found in Malaysian Beaches.
Study showed that the cruising speed of the Green Turtle is between 1.5 km/hour to 2.5 km/hour. The Leatherback turtles can cruise faster to a maximum of 9.3km/hour. If you have seen the marine turtles "crying", they are actually not crying but getting rid of the excess salt from their bodies.
In Malaysia, the Leatherback Turtles can be found in Rantau Abang, Terengganu though the number has since declined in recent years. Green Sea Turtles are found in Turtle Island in Sabah, Pulau Satang in Sarawak, Pulau Redang in Terengganu and Pulau Chendor in Pahang.

Turtle Exhibits
This centre is currently building the turtle exhibits that will provide visitors with more information on the turtles that are being bred here.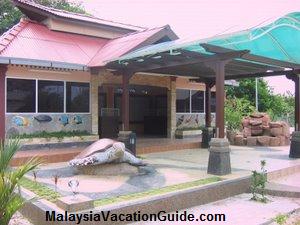 The turtle information centre. Notice the man-made structure of the Turtle at the entrance to the building.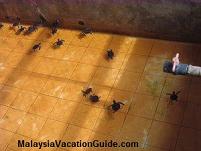 Turtle Hatchlings.
Operation Hours and Entrance Fee
Tuesday to Sunday except Friday. 
9:00am to 12:30pm
2:00pm to 6:00pm 

Friday : 9:00am to 12:15pm
Closed on Monday.

Entrance is FREE
Contact: +605-2554061 / 62 for more information.

Getting Here
If you are in Lumut or Sitiawan area, use the bridges that connects the town of Sitiawan to Segari. follow the signage to Kampung Acheh/Segari and you will cross 3 beautiful bridges that provide a panoramic view of the Dindings River and the estuaries.
Go towards the Lumut Power Plant direction and you will reach the signage "Pusat Penetasan Penyu, Pasir Panjang Segari". Follow the direction and you will reach this place in approximately 35 minutes, if you are coming from Sitiawan.

Related Place of Visit
If you are planning to go to the east coast in Pahang or Terengganu, you can also visit the Cherating Turtle Sanctuary managed by the Department of Fisheries Malaysia.