Sitiawan Seafood
Many would agree that Sitiawan Seafood is unique in that the dishes are tasty and cooked by the Foo Chow people whose ancestors migrated here more than a century ago. The most common and popular dishes are the Red Wine Mee Suah, Sweet and Sour Fish Maw and Sweet and Sour Fillet Fish.
There are many restaurants located in Sitiawan, Kampung Koh and Kampung Cina that serve all types of Foo Chow food. One of the most frequented restaurant is Bei King Restaurant. It used to be located at Jalan Raja Omar, Sitiawan but has now shifted to its own building at Jalan Kampung Selamat effective December 2012. This new building also houses a hotel.
Here are a few specialties.

Red Wine Mee Suah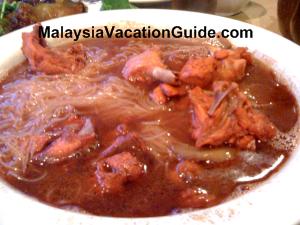 Red Wine Mee Suah.
This dish uses the home-made mee suah, a type of rice noodle which is smooth when cooked and brittle when uncooked. It cannot be cooked too long in the soup or else it will turn soft. Usually, it is placed in a hot boiled water and taken up in less than a minute. By itself, it is salty in nature hence it is usually taken with chicken soup and in this case the chicken red wine soup.
The main ingredients used to cook this dish are old ginger, sesame seed oil, chicken, mee suah and red wine. This dish smell good especially when the slices of ginger are being fried in the sesame seed oil. A good dish to start off your dinner.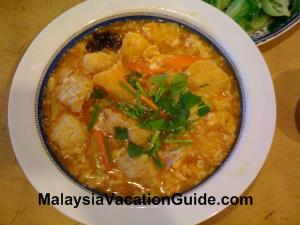 The Sweet and Sour Fish Maw.
Sweet and Sour Fish Maw
This dish is nice to eat and is one of the dishes that are always served during wedding dinners and birthday parties. The fish maw is cooked in sweet and sour sauce with other main ingredients such as bamboo shoots, chilly, carrot and celery.

Sweet Sour Fish Fillet
The Sweet and Sour Fish Fillet is a favourite especially with children. The slices of fish fillet is deep fried after which they are fired using sweet and sour sauce. Some restarant also include potatoes slices in this dish. Usually it is eaten as one of the dishes with rice.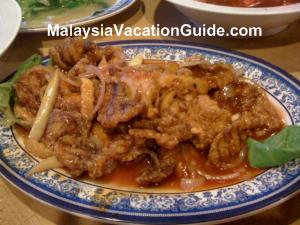 The tasty sweet and sour fish fillet dish.
Address of Bei King Restaurant
You can get all the dishes at Bei King Restaurant.
Lot 35535
Taman Desa Selamat
Jalan Kampung Selamat
32000 Sitiawan
Perak

Tel: +6 05 691 0253