Lumut Mangrove Swamp
Have you been to a mangrove swamp in Malaysia? If you are on your way to Lumut or the beach of Teluk Batik, remember to drop by Lumut Mangrove Swamp. You will definitely pass by this place if you are going to Pangkor Island for your vacation. Located in the state of Perak, the local called it "Taman Paya Bakau", literal translation Mangrove Swamp Garden. It is located opposite Venice of Perak, a big residential and shop houses which is a newly developed area. Look up for the sign board along the newly built highway to Ayer Tawar.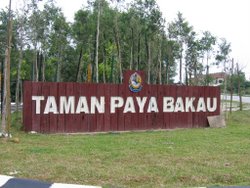 The signage to Lumut Mangrove Swamp.
Though the swamps are muddy in nature, they help to provide an eco- system that supports a varieties of living organisms and plants. Other advantages include :
Protecting the land from erosion of the sea water.
Wood from Mangrove trees are used to make charcoal and firewood for household and industrial use.
A shelter for migratory birds.
Breeding ground for crabs, prawns and other sea creatures.
Rhizophora
Mangroves are trees and shrubs that grow well in the estuaries where the river and the sea water met. The mangrove is a type of wetlands found only in tropical climate. In total, Malaysia has a total mangrove areas of 641,000 hectares. It is home to many sea creatures such as crabs, fish, birds, prawns. Monkeys are usually found in these areas as well.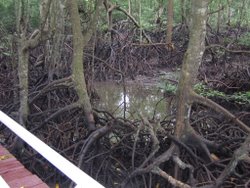 The Rhizophora Mucronata mangrove species is found here.
Platform
The platform of 1 m to 2 m serves as a convenient platform for visitors to walk in here. It takes approximately 20 minutes to walk to the estuary. One can see the beautiful scenery of the river at the end of the platform. Though this place is not featured in the visitors information booklets, it is worth stopping by just to enjoy the cool air and taking some pictures as a memento.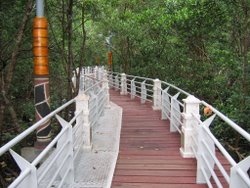 The raised platforms for you to walk.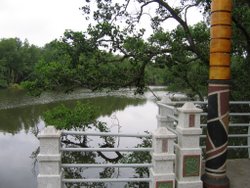 Another view of the river.
Facilities
The facilities here is minimal. There is no restroom nor water supply for washing. One does not really need it anyway as this place is near the town.
There are a few stalls where snacks and light refreshments are sold. Parking is provided free of charge.