Teluk Batik Beach
Teluk Batik Beach is located at the west coast of the state of Perak, about 6.5 km away from the town of Lumut. This beach is one of the most popular beaches among the locals as it is accessible by cars. There are ample of parking bays available and this beach is crowded during public holidays and weekends. 
The man made sea creatures at the walkway to the beach.
The golden sandy beach is an ideal place for one to spend some time alone or a picnic with your family members. The beach is clean and you can swim here but the water can be murky during high tides.
The beach and its surrounding was recently renovated where you will be able to see big structures, spacious squares for you to take a stroll and restrooms where you can wash up and take your shower after a swim in the sea. Tyre tubes, chairs and boats are some of the facilities available for rent at the beach.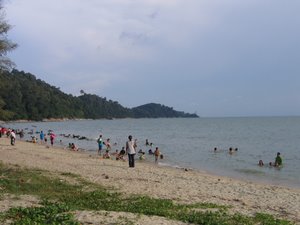 Locals having a good time at the beach.
If you do not know what souvenir to get, try going around the many souvenir shops that sell many sea related products. You can buy corals that have been painted and designed in many different shapes and sizes. Food stalls are available to fill your hungry stomach after sweating it out at the beach.
If you happen to be around at the end of the year, this is the place where Lumut Sea Festival is held usually from October to November time frame. During this event, many visitors will throng this beach for a good time of fun. Sea sports competitions and cultural shows are held during this time of the year.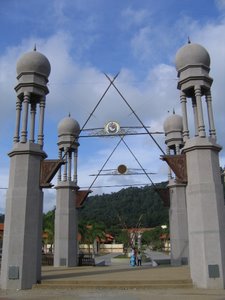 The Huge Structure.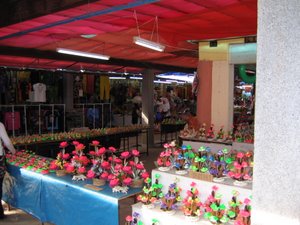 The many shops selling souvenir. Take note of the souvenirs make from sea shell.
Getting To Teluk Batik
If you are coming from Kuala Lumpur, take the NKVE and exit at Bidor toll plaza. Go through Bidor town and follow the signage to Sitiawan or Lumut. Before arriving at Lumut, you will pass by the town of Ayer Tawar. After Ayer Tawar, follow the signage to Lumut. Before arriving Lumut town, follow the Teluk Muroh/Tlk. Batik direction and you will soon pass by the Naval base. Make a left turn a travel along the road and you will reach the beach in no time. The total journey will take you approximately 3 hours 40 minutes.
No.
Hotel/Resort
Tel No.
1
Teluk Batik Resort
05-6838 688
2
Marina Cove Resort
05-6836 666
3
Crystal Bay Chalet
05-6838 888
4
Impian Chalet
05-6832 645
5
Chalet Kenangan
Pak Man Teluk Batik
05-6835 544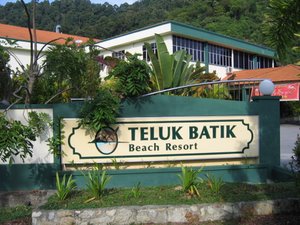 Accommodation
There are a few resorts nearby where you can spend a night or two. The latest one is Marina Cove Resort. You will not miss this resort as it is located on your right as you are about to reach the beach. 
Another well equipped hotel to consider is Tlk. Batik Resort which is located within walking distance to the beach. There is a reasonable sized swimming pool, tennis courts, trekking trails and restaurants for your convenience.
For more information and contacts, see the list of accommodation below.