CITTA Mall Shopping Centre
CITTA Mall is the latest shopping centre to open at Ara Damansara, Petaling Jaya. This mall is not as big compared to 1 Utama or Ikano but is a convenient place to shop for your day to day needs. There are a few eateries that have opened and more outlets are expected to open soon.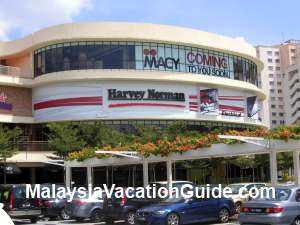 One section of the mall.
Many prefer to park outside the main entrance instead of going to the basement as it is more convenient to go into the shops.
There are over 800 parking bays that you can use and the stairways of the parking bays are colour-coded to enable you to locate your vehicle with ease. This mall is located along Jalan Lapangan Terbang Subang and opposite Saujana Golf and Country Club.
Many outlets will be opened soon. Here are some of the shops that are already operational at the time of writing.
Presto sells groceries and other day to day product and is located at the LG level. You will find fresh vegetables, meat, fruits and other goods here.

Harvey Norman sells electrical and electronics goods. The other outlet is located at IPC Shopping Centre at Mutiara Damansara. This outlet is smaller compared to the one at Ikano Power Centre.
Presto Supermarket
The Harvey Norman Electrical and Electronics Shop.
GNC, the outlet that sells health products is located just beside Presto Supermarket.

Times Publishing also has an outlet here. This bookstore has promotional discounts at different times of the year.

Subway, where you choose your own bread, fillings and sauces are here as well. 

BBQ King sells everything related to barbeque. There are many products that you can look at if you are into BBQ.

Bazaar Shopping operates from 10am to 10pm from Friday-Sunday. There are many mobile stores that sell clothing and other basic household needs. You can bargain and negotiate for better price here.
BBQ King has an outlet here.
Look for books and magazines at Times Publishing.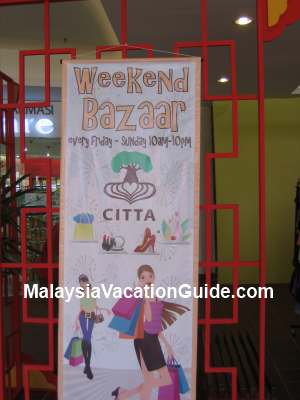 The Bazaar is on from Friday-Sunday.
Getting Here
This mall is located along Jalan Lapangan Terbang Subang, near the Kelana Jaya Line LRT Depot. The best way to come here is using your own transport or a taxi.
The address of the mall:

1, Jalan PJU 1A/48
PJU 1A
Ara Damansara
47301 Petaling Jaya

Tel: +60 18 306 2238