Bagan Tengkorak
Consider stopping by Bagan Tengkorak for a meal if you are driving along the coastal road from Klang or Petaling Jaya and going north towards the direction of Kuala Selangor and Sekinchan. This village is located in the district of Tanjung Karang and is turning to this fishing village is just after the town centre of Tanjung Karang if you are coming from Kuala Selangor.
Park your car at the compound of the temple/building which is only used when there are events.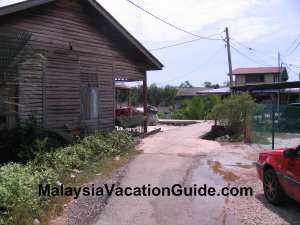 The road leading to the restaurant by the sea. A little bit obscure but you will be able to find it.
If you do not mind eating in a simple setting without the air conditioning, there is a chinese restaurant about 4 km away from the main road. You just need to follow the Kg. Bagan Tengkorak signage and drive along the road. Stop and parkat the compound of a Chinese Temple as there is'nt any proper parking bays unlike in the city.
Instead of going to the more commercialised restaurants in Pasir Penambang, this restaurant is less crowded and is only frequent by the villagers and those who have been to this place. As with any typical old fishing villages in Malaysia, the shop and the houses nearby looked old and not organised.
Once you are here, ask the owner for a recommendation of their specialties. Try the Red Snapper cooked with chillies and soya sauce, Fried Calamari or also known as Fried Squid, Claypot Catfish, prawns, La-La or clams steamed with ginger, vegetables and crabs. You will enjoy your meal especially if it is a windy day.
The Restaurant.
The main occupation of the villagers are fishermen. Most of them have their own boats.
Operation Hours

The Restaurant opens from 9am to 6pm from Wednesday to Sunday. It is closed on Monday and Tuesday.

Tel: +6 03 3269 5451 
Mobile: +6 017 202 1198

The Red Snapper in chillies signature dish.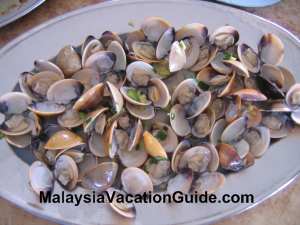 Steamed La-La or Clams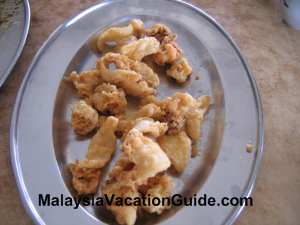 Fried Calamari.
Getting Here

If you are coming from Kuala Lumpur, drive towards the direction of Kuala Selangor. After passing through the town of TanjungKarang, look out for the signage at the left hand side of the road. Turn left and travel for about 4km. It takes about 90 to100 minutes by car from Kuala Lumpur.
The GPS Coordinates of the village: N 03° 26.908' E 101° 08.030'