Teluk Rubiah Beach
Latest News: Teluk Rubah Beach and the resort were closed effective Oct 2010 as it has been sold off to a Brazilian Iron Factory. A sad news to all who have been here as it was a nice and secluded place for family vacation.


Teluk Rubiah Beach is located 5 minutes from the town of Sri Manjung or 30 minutes drive from the more popular town of Lumut, Perak. This is a private beach where Teluk Rubiah Beach and Golf Resort is located. The Tenaga Nasional Power Plant is located in the vicinity.
It is accessible by road, a secluded resort where you will experience the "back to nature" type of feeling. As you drive pass to the resort, you will see vast greenery on both sides of the roads.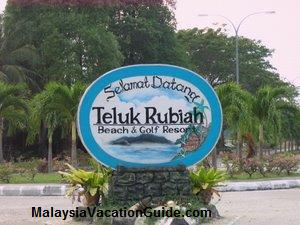 The big signage that welcomes you as you are about to reach the resort.
Facilities At The Resort
There are altogether 16 chalets with 55 rooms that are built on fine woods with traditional Malay homes style. The room rates start from RM180 for a deluxe room. All the chalets are located along the beach.
A swimming pool is available for the use of the guests. If you are like me who prefer to swim on the sea, try swimming on this beach which is a sheltered bay by many trees along the beach. Try the kayak and explore the serenity of the sea.
If you like nature, try jungle trekking and along the way you may be able to see some birds and monkeys. Make sure you bring along a good shoes and binocular to do this feat. The jungle trail is quite hilly and you will go up and down the hills as you hike along the jungle trail. If you are not familiar with this place, please remember to get a guide.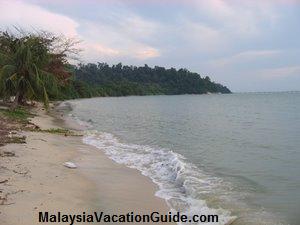 The photo of Teluk Rubiah Beach taken in the evening.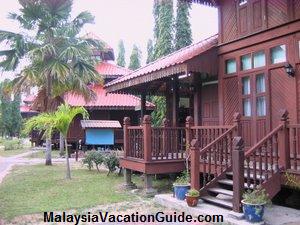 The traditional Malay style chalets at the resort.
Other facilities are meeting rooms and conference hall. A good place for one to do team building away from the hustle and bustle of the city. Barbeque pits are available for your use for a time of get together and fun during dinner. A beach volleyball court is provided to sweat it out with your friends.
Water sports facilities such as boating and canoeing are available for rent upon request. If you like fishing, try booking a boat with some friends and go to Pulau Sembilan near Pangkor Island for a good time of fishing. You will most probably get some fish if you use the right bait.

Golfing
Golfers will be keen to try out the 18 hole golf course that is spread over 141 acres of greens with lakes, hills and trees designed into the course. There are putting and pitching areas for practice before going to the course itself. It has a club house with shower facilities, cafe, golf buggies and golf trolleys. Caddy services are also available.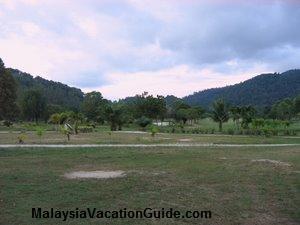 The Golf Course.
Getting To Teluk Rubiah
If you are coming from Lumut or Sitiawan, you will have to go towards the township of Seri Manjung. Follow the direction to Seri Manjung after which you will pass by Seri Manjung Hospital.
Follow the Teluk Rubiah signage and you will drive along a secluded road with bushes and jungles by both side of the road. There will be a guard house that you will pass by before reaching the resort.