Teluk Intan Food
If you are looking for Teluk Intan food after visiting the leaning tower, there are varieties of Chinese and Malay food that you can try.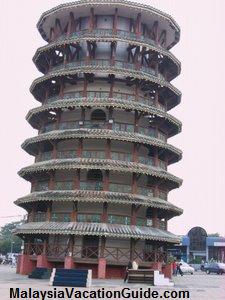 Leaning Tower of Teluk Intan
A little bit of history - this town used to be known as Teluk Mat Intan in "Hilir Perak" district but was changed to Anson Bay during the occupation of British in Malaya. The town was renamed Teluk Intan by the Sultan of Perak  in 1982.

Flanked by Perak River and Bidor River, this town has a population of 120,000 where the Chinese, Malays and Indians formed the majority of the people in this town. There are many oil palm plantations in the "Hilir Perak" district hence it is not surprising that Malaysia Palm Oil Board or MPOB office is located here.
Here are some of the Malay food that you can try while you are here.
"Mee Rebus"
"Mee Jawa"
"Rojak"
"Nasi Kandar"
"Satay"
Chinese Food #1 - Chee Cheong Fun 
Liew Kee Chee Cheong Fun shop has been around for 100 years and is operated from a house. The "Chee Cheong Fun" produced here is made from turnip, dried prawns, shallots and minced pork. There is no sauce to go along with it but remember to take it with pickled green chillies.
Take note that only take away order is applicable as the shop is not big enough for customers to dine in. Price per packet is about RM4.40.  The shop is opened from morning until evening. Call the owner for direction in the event that you are not able to find the place.
The address: 725, Jalan Hill, 36000 Teluk Intan, Perak.
Tel: 05-622 3181 or 017-555 8331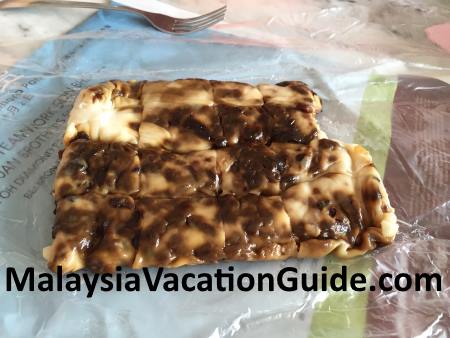 Teluk Intan Food - The famous "Teluk Intan Chee Cheong Fun"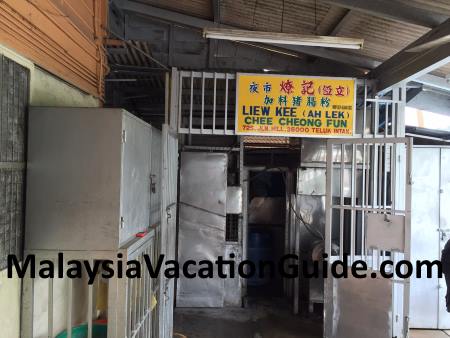 Liew Kee Shop Teluk Intan.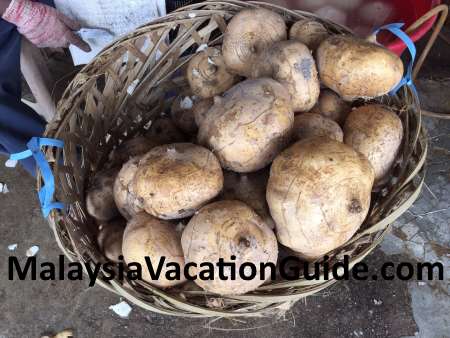 Turnip
Peeled turnip as one of the ingredients to make "Chee Cheong Fun"
Machine at Liew Kee Shop that is used to make "Chee Cheong Fun"
Chinese Food #2 - Heong Peah
This town is also famous for "Heong Peah" in Hokkien dialect or fragrant biscuit, a type of biscuit which is crispy with sweet filling in it. The ingredients used to make this biscuit include flour, sesame seed, sugar, vegetable oil, salt and shallots.
There are two families owned businesses that are producing these biscuits. They are Sin Joo Heong Confectionery which carries the TIGER HEAD BRAND and Sin Guan Tin Confectionery which carries the BUTTERFLY BRAND.
The Tiger Head brand is a family-run business and was established in 1962. It used to include pork lard as one of the ingredients but has since stopped using that to appeal to the "halal" market. It received "halal" certification three years ago. 
This brand has expanded to Ipoh, Kuala Lumpur and Penang. If you are staying in these cities, you do not have to purposely travel to Teluk Intan to buy the "Heong Peah" anymore.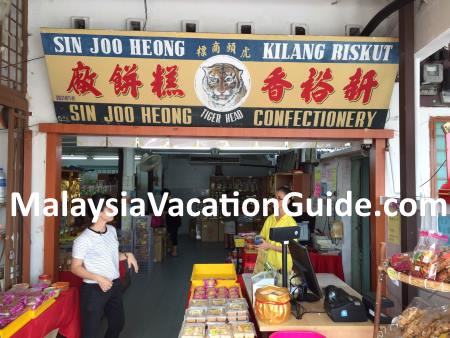 The entrance to Sin Joo Heong shop. This shop is located near Bidor River.
Tiger Brand "Heong Peah"
This shop also sells all types of biscuits.
Teluk Intan Food Address
Here are the addresses of the two famous confectioneries if you want to drop by and get some biscuits before leaving the town.
Sin Joo Heong - 830D, Jalan Mak Intan, 36000 Teluk Intan. Tel: 05-622 2472
Sin Guan Tin - 110, Jalan Pasar, 36000 Teluk Intan. Tel: 05-621 5110