Tanjung Sepat
Tanjung Sepat is located at the south west of the State of Selangor in the district of Kuala Langat. If you have not been to this town, it is a good idea to plan and take a drive along from Morib to this fishing town. You can then go to Bagan Lalang beach and stay at the Golden Palm Tree Sea Villas & Spa if you have the budget.

The best way to come here is by driving. If you are coming from Kuala Lumpur, you can use KESAS highway and exit to Banting Road. From here, you will pass the town of Teluk Panglima Garang, Jenjarom, Telok Datok, Banting, Morib before reaching this fishing village.
You will have to turn right to go into the town centre. Give yourself an hour and a half to come here as it is about 90km from Kuala Lumpur.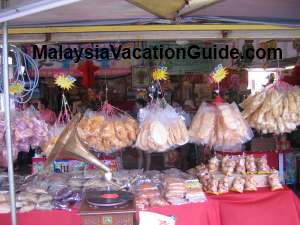 The souvenir shop
Most visitors will go to buy buns with variety such as "kaya pau", "tau sar pau", "meat pau" and the "vegetable pau" at the Hai Yew Hin shop located at Lorong 4. It is usually crowded especially during the weekends and the owners may only allow you to buy 5 buns if the queue is long.
They tasted normal to us and we are not sure why people take all the effort to queue up just to get them. The GPS coordinates of the shop is N02° 39.596' E101° 33.635'.
The other alternative is to have your tea break at the coffee shop located just opposite the bun shop. This shop is also crowded most of the time especially during public holidays. Their specialty is the barbecue bun or "char siew pau" and black coffee.

If you have the time, you may want to drop by Ganofarm, a mushroom farm. This farm also offer homestay accommodation if you would like to stay a night of two to experience the life in a fishing village. You may also want to drop by Joo Fa Trading to purchase some coffee which is produced here.
Buns in demand especially during the weekends.
A boat with the inscription "Lover's Bridge", bicycles, umbrellas and cherry blossom decorations.
Seafood Restaurants & Souvenir Shop
Latest Update: As of June 2017, Lover's Bridge Restaurant and Ocen Seafood Restaurant at the old premises had been demolished to make way for a new food court. 

There are three restaurants that you can take your dinner or lunch. They are the Lover's Bridge Restaurant, Ocen Seafood and Ban Joo Hing. The more crowded shops are the Lover's Bridge and Ocen restaurants. Seafood such as crabs, fish, squid and prawns are offered here with varieties of cooking style.

At the Lover's Bridge Restaurant, the famous dishes include the mee hoon fried with crabs, steam or curry fish, fried squid, steam or fried prawns and fishball noodles.
If the crowd is there and there are not enough chefs, you may have to wait for 40 to 45 minutes before getting your meals. Hence if you are in a hurry for other appointment, always ask for the estimated time of the arrival of your food.
Address:
Lover Bridge Restaurant Tanjung Sepat
43B, Jalan Tepi Laut
42800 Tanjung Sepat
Selangor

Tel: +60 19 270 0796 or +60 3 3197 5871

The souvenir shop is located nearby. You will not miss this shop. Biscuits, shells, dried prawns, dried anchovies, salted fish and other seafood products are available here.
Address:
Qingren Qiao Local Product Shop
No. 25-A, Jalan Senangin, Taman Tanjong
42800 Tanjung Sepat
Selangor

Tel: +60 3 3197 5594

The GPS coordinates of the the bridge and restaurants are N02° 39.542' E101° 33.445'.
Lover's Bridge Restaurant.
Fried crab with "mee hoon" or rice vermicelli.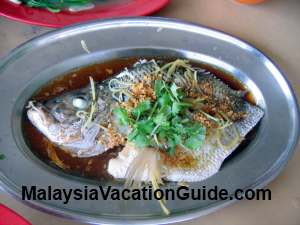 Steam fish with soya sauce.
Attractions Nearby