Morib Beach
If you have not been to Morib, make plan to go there for half a day's trip as many changes have been done to the infrastructure of the beach. Also known as Pantai Morib in Malay language, this beach is packed during the weekends and public holidays.
Families with small children, young adults and couples come here for a time of relaxation and recreation. Plenty of parking bays are available for your use.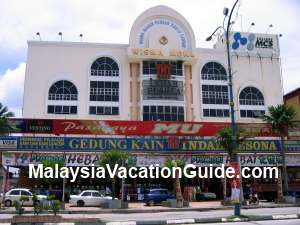 Drop by Banting town and get your supplies here.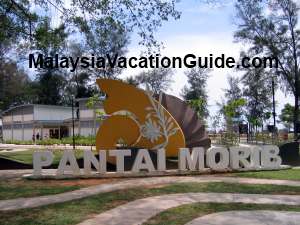 The signage at the entrance to the sea front.
This 3 km beach is about 70 km away from Kuala Lumpur. Use the KESAS highway and exit to Banting Road. Go along this busy road and you will pass by Teluk Panglima Garang followed by Jenjarom. It is another 25 km away before reaching your destination.
Teluk Datok is another small town you will pass by using this trunk road before reaching the bigger township of Banting. The GPS coordinates of Banting is N02° 48.797' E101° 30.133'.
Banting has many shops and you can stop here for a meal or purchase some tit-bits and food for your picnic at the beach if you want to. The Store departmental store is located along the Banting-Morib Road.
If you would like to purchase textiles related products, go to Wisma MDKL(Majlis Daerah Kuala Langat) which is along the same road as The Store. Kanchong Darat is another town you will pass after Banting before reaching here.
The GPS coordinates of the beach is N02° 45.023' E101° 26.623'.

History 

You will notice that there is a small monument built to commemorate the landing of a company of Indians on 9th September 1945. They were from the 46th Battalion of the British Marine chosen to defend the place from the Japanese Army during World War II.
The small monument built to commemorate the landing of the Battalion of the British Army in the year 1945.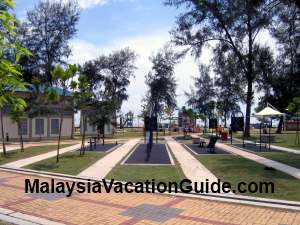 Well maintained walking pavement. Good place for a time of recreation and relaxation with your family and friends.
Activities To Do


If you come during the weekends and public holidays, there are one or two "mobile shops" that sell kites of different shapes and sizes. Your children will enjoy flying kites here as there is a designated area for kite flying.
Getting the kites up the air is easy especially during windy days. Bring your own kites if you come during the weekdays in case the "mobile-shops" are not open.
If you have the time to prepare, bring your own food and have picnic under the casuarina trees. There are benches and tables that you can use.
Alternatively, have a cup of coffee, coconut, noodles, nasi lemak and other local food at one of the many stalls here. Most of the stalls are opened during the peak season when it is a public holiday.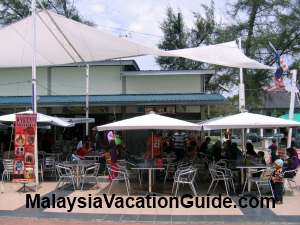 A section of the many food stalls that is crowded during weekends and public holidays.

Coconuts, drinks, noodles, laksa and coffee are some of the food and beverages that you can order.
A view of the beach during low tide.
Talk a walk along the beach. During low tide you can walk 1km to 2km towards the sea. Make sure you bring a cap and sun glasses as the weather is usually hot and humid in the afternoon.
Take your camera and enjoy snapping especially when the sun sets. Put sun screen if you do not want to get sun tanned. Having a bottle of mineral water will help to replenish your body fluid.
There are a few observation structures that you can go up for a better view of the Straits of Malacca. They are not very high and will provide you with an excellent view to take some photos and enjoy the breeze of the sea.

Facilities and Accommodation

Toilets for men and women are available but you will have to pay a fee of RM0.30/person to use it. The money collected helps to maintain the cleanliness of this basic facility.
Suraus for men and women are also provided for Muslims to use.
An information counter is located to help you with any query you may have.
Further up the beach towards the South is Gold Coast Morib Resortwhere you can stay for a night or two. There is a water theme park here and your children will enjoy it. There are many gazebos around this resort built using bamboos.
The Pier is located by the sea where you can have a drink or meal in the evening. Check the online rates and compared the price of Gold Coast Morib Resort here.

Video Of The Park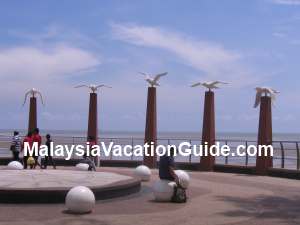 Statues of five birds near the water front.
Have your lunch or dinner at the Golden Sea Restaurant within the vicinity of Morib beach.
Seafood


If you would like to have a better meal such as lunch or dinner, there is a seafood restaurant called Golden Sea Restaurant as you travel towards Tanjung Sepat. This restaurant is less than 5 minutes away from the beach. The GPS coordinates of the restaurant is N02° 43.215' E101° 27.526'.
If you are looking for more choices of seafood restaurants, you can head for Tanjung Sepat. Tanjung Sepat is a bigger township compared to Morib. The Lover's Bridge Restaurant and Ocen Restaurant are located beside the Lover's Bridge. These restaurants are usually crowded during the weekends.

See Also