i City Shah Alam
Head for i City in Shah Alam, Selangor in the evening and enjoy the thousands of LED (light emitting diodes) that are used to build trees and animals. The advancement of LED technology has enabled many colourful lights with different intensity possible. 
Colours that you can see here include yellow, red, blue, orange, white and green. Bring your best camera if you are into photography and take the best shot while you are here.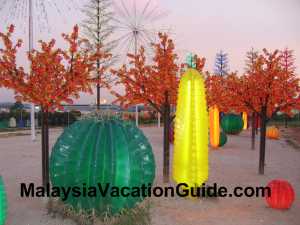 Notice the artificial cactus lighted up using LEDs.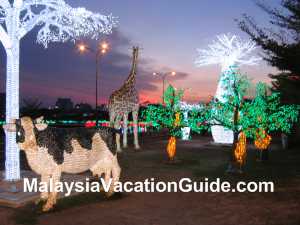 The colourful animals and trees.
Look out for the pine trees, cactus, cow, giraffe and peacocks. It is a good place for family outing. There are shops here that serves food and drinks though not all are fully operational. Al-fresco dining is available here with a big LCD screen that entertains you while you are having your meals.
The most recent attraction that was opened to the public in March 2011 was the Snowalk, a 50,000 square feet environment 5°C below zero. A good experience for those who want to experience a change of environment.
There is also an indoor theme park with video games, horse riding and games for your enjoyment.
Plan to spend about 2-4 hours here.
Snowalk

Snowalk is a 50,000 square feet area where the temperature has been brought down to -5°C, a close replica of the winter condition in temperate country. You will see many ice sculptures that have been shaped by sculptors from Harbin, China. Harbin is located in north-east of China near Russia and is a popular holiday destination especially during winter season where you will see gigantic sculptures of buildings and animals done by the experts from the city of Harbin.
The sculptures include mini football field, swan, igloo, santa claus, reindeers and cafe tables. There is also a thin layer of man-made snow here though it is not as fine as the actual snow.
The ticket counters at the Snowalk.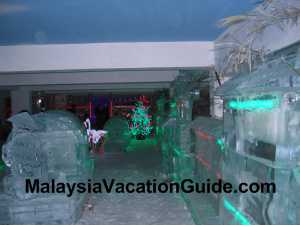 The sculptures inside the Snowalk.
You will need to wear comfortable shoes with good grip as it can be quite slippery on certain parts of the hall. Long pants and gloves will certainly help to enable you to stay longer here. Jacket will be provided.
This place is open from 10am to 1am daily and entrance fees is RM25/adult and RM15/child below 12 years old. As of April 2011, there is a promotional rates of RM15/adult and RM10/child if you come from 10am to 6pm daily.
Outside the foyer, there are 4 machines that can produce snow or rather ice-making machine. They are on at certain times of the day for you to experience snow-fall.
The foyer.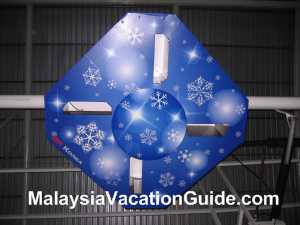 One of the four machines from South Korea that is suspended on the ceiling to create artificial snow.
Wax Museum
This is the latest attraction here that features life-sized wax figurines of popular personalities of rulers, politicians, sportsman and singers.  There are altogether more than 100 wax figurines here.
Take photos together with Barack Obama, Lee Chong Wei, Bruce Lee, Psy, Angelina Jolie, Michael Jackson, Elvis Presley and Jackie Chan. 
Entrance fees is RM100/adult and RM50/child. Malaysians with MyKad/MyKid pay RM80/adult and RM40/child.
Getting To I City
If you are coming from Kuala Lumpur using the Federal Highway, go towards the direction of Shah Alam. After passing through the toll after Subang Jaya, continue straight and look for the sign "I City" before reaching the second toll. Keep to your left and turn right at the traffic light. Go straight and turn left after this. Find a parking at the building next to the Snowalk.