Kuantan River Tours
If you are in Kuantan and have the time, head for an adventure by cruising down the Kuantan River. As you cruise along the river, you will be able to see the modern skyscraper buildings along with the traditional fishing village settlement. Take note of the inhabitants of the mangrove swamp as you do a board walk on the specially constructed platform.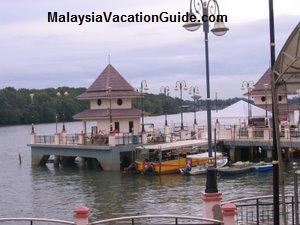 The Shahbandar Jetty where you can park your car and go for the river cruise.
There are a few cruises available for you to choose from. Each cruise can take 1-5 persons. If you have less than 3 persons joining the cruise, some discount will be given by the operator.
The cruise starts at the Shahbandar Jetty which is located just beside the Municipal Council Office near the Esplanade.
Fishermen Villages
If you choose the package tours that include going to the fishermen villages, the Tanjung Lumpur fishing village which is located at the mouth of Kuantan River is one of the stop during your cruise. As this is a fishermen village, you will be able to see many fishing boats moored along the beach.
The colours of the boats show the identity of the origin of the boats whether they are from Pahang, Johor, Terengganu or Kelantan. The colour codes are Yellow -Pahang, Blue - Johor, Green - Terengganu and Red - Kelantan.
Mangrove Swamp
Enjoy the 339 hectares of Mangrove Reserve Forest which has been in existence for over 500 years. There are 2 routes with lengths of 250 m and 750 m for you to experience the Mangrove Boardwalk.
You may even want to climb the 40m viewing tower and see a panoramic view of the forest reserve. As with any mangrove swamp, see the crabs, prawns, fish, lizards and other living creatures as you take a stroll along the platform.
See the nipah palm leaves which are used to make attap roof in the traditional Malay houses.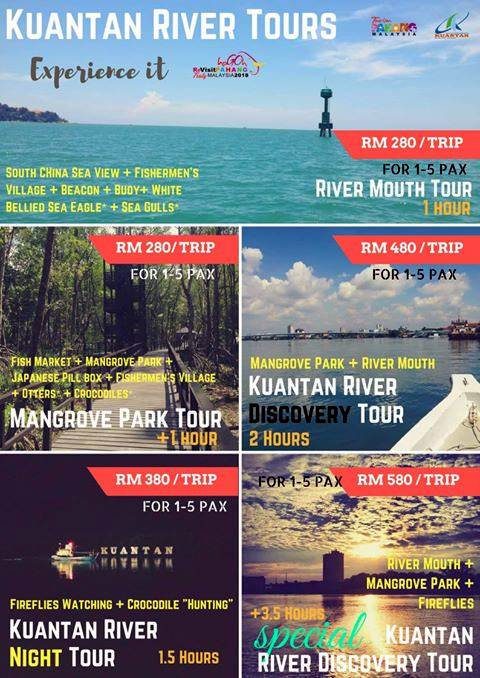 Kuantan River Tours Operating Hours & Fees
The River Cruise is operated by Kuantan River Tours. You can  email: kuantanrivertours@gmail.com for more information. 


Cruise Operating Hours
The cruises operate from 9am to 7pm daily. The Fireflies tour will be conducted at night and early booking is necessary for the tour to take place.

Tours & Fees
1. River Mouth Tour (Duration: 1 hour) RM280/trip, 1-5 pax
South China Sea View
Fishermen's Village
Beacon
Buoy
Spotting for White Bellied Sea Eagle and Sea Gulls
2. Mangrove Park Tour (Duration: 1 hour) RM280/trip, 1-5 pax
Fish Market
Mangrove Park
Japanese Pill Box
Fishermen's Village
Spotting for Otters and Crocodiles
3. River Discovery Tours (Duration: 2 hour) RM480/trip, 1-5 pax
4. River Night Tour (Duration: 1.5 hours) RM380/trip, 1-5 pax
Fireflies Watching
Crocodile "Hunting"
5. Special River Discovery Tour (Duration: 3.5 hours) RM580/trip, 1-5 pax
River Mouth Tour + Mangrove Park Tour + Fireflies Watching 
Getting Here
The jetty is located off Jalan Besar. If you are coming from Teluk Chempedak, go towards Jalan Teluk Sisik after which you will go into Jalan Besar.
You will be able to see Teruntum, Complex to your right. The jetty is to your left just after a couple of hundred meters from Teruntum Complex. 


Other Places of Interest
If you are looking for a seafood restaurant near Kuantan, head for Pak Su Seafood Restaurant which is just 10 to 15 minutes drive away from the city. 

If you are travelling to Terengganu, you can also stop by Chukai and try the famous stuffed crab. Chukai is about 25km from Cherating.