Pak Su Kuantan Seafood
Have you been to Pak Su Kuantan Seafood Restaurant? If you have not, head for the restaurant which is located along Jalan Beserah. You will pass by if you are going to Kemaman from Kuantan using the route 3 scenic highway.
It is a "halal" or kosher restaurant that is frequent by many locals and visitors who are travelling to the east coast. It has an open air area facing the sea where you can feel the breeze and hear the sound of the waves during windy days.
The spacious Pak Su Seafood Restaurant.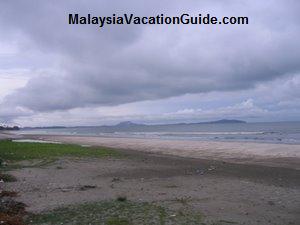 The sea view from the restaurant.
A small section is partitioned for those who want to dine in the air-conditioned environment. As you enter the restaurant, you will be able to see many live fish, lobster and crabs swimming in the glass containers. There are many parking bays available just beside the restaurant.
Seafood Specialty
The main specialty of this restaurant is the stuffed crab, similar to the one that you can try at Tong Juan Restaurant in Chukai, Kemaman in Terengganu. The stuffed crab is price at RM5/crab and is cheaper compared to the one in Chukai. However, the one in Chukai seems to have more meat.
The stuffed crab is the main specialty.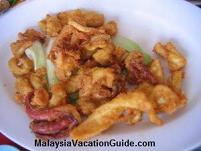 Fried Calamari.
Other dishes include the cheese lobster, butter tiger prawns, steam fish, claypot flower crab with white pepper, fried local flower crab with salted egg, thousand island fried chicken and Pak Su bean curb. The prices of the food are reasonable considering the quality of the food served.
The steam ginger fish.
Business Hours and Contacts
The Pak Su Restaurant is opened everyday with a break between 2:30pm to 5:30pm.
11:30am to 2:30pm
5:30pm to 12:00am
Address
4/1417, Batu 6 
Lot 922, Kampung Bahagia Beserah
26100 Kuantan
Pahang Darul Makmur

Tel: +6 09 544 8025