Sultan Abu Bakar Museum
The Sultan Abu Bakar Museum is located in Johor Bahru and used to be the Istana Besar or Grand Palace of the Sultanate of Johor. It was built by Sultan Abu Bakar, the father of Modern in 1866 and overlooks the Straits of Johor. The architecture of the palace has the Anglo-Malay feature and designed by Datuk Yahaya Awaludin.
As of December 2022, this museum is currently undergoing renovation work and is closed to the public until further notice. We will update the information here once the museum re-open to the public. You can visit other museums such as Johor Bahru Chinese Heritage Museum.
The vast space and greenery at the compound of the palace. The total area is about 53 hectare.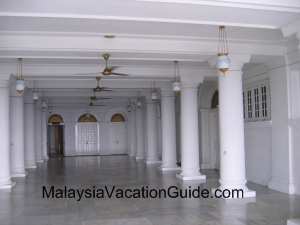 Notice the circular beams that are unique in this building.
In the 1990s, the then Sultan of Johor, Sultan Iskandar decided to convert the Grand Palace into a museum for the public to view the Royal Family's collection.
The collections here provide a wealth of information on the interest and lives of the Johor Sultanate. Sultan Iskandar officially opened the museum on 11 May 1990. The Grand Palace is still being occasionally used for state and royal ceremonies.
The exhibits are placed in different rooms of the palace and some are: 

Memorabilia.
Orders, Decorations and Medals.
Gallery of the pictures of previous and present rulers of Johor.
Antiquities and furniture of the Royal Family.
Silverware
Crystalware
Gold and silver jewelleries.
Vases
Traditional Malay weapons.
Numismatic.

Some interesting items to note are the elephant's-foot umbrella stands and antelope-leg ashtrays.
The trophies.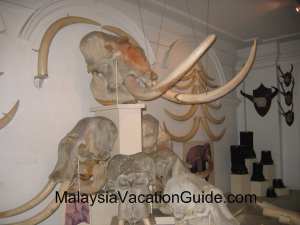 The hunting exhibits in one of the section of the museum. Notice the elephant tusks hanging on the wall.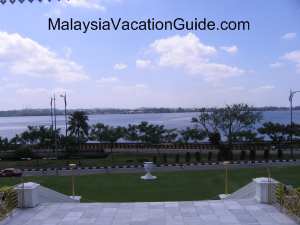 The view of Straits of Johor from Royal Sultan Abu Bakar Museum.
Sultan Abu Bakar Museum Operation Hours
The museum is opened daily from Saturday to Thurday 9:00 a.m. to 5:00 p.m and closed on Fridays. 

It is also opened during public holidays.

Take note that the ticket counter closes at 4:00pm.
Call +6 07 2230 555 for more information.

Address:
Royal Abu Bakar Museum
Grand Palace, 
80500 Johor Bahru,
Johor.


Entrance Fees
Johorean: 
RM4.00 (Adult) 
RM1.00 (Children under 12 years old and student)

Malaysian: 
RM5.00 (Adult) 
RM1.00 (Children under 12 years old and student)

Non-Malaysian:
USD7.00 (Adult)
USD3.00 (Children under 12 years old)