Johor Bahru
Johor Bahru or also frequently known as JB is the capital city of Johor and is just 20-30 minutes away from Singapore. It was declared a city in year 1994 and is fast growing due to its vicinity to Singapore. This city is not as organized as Singapore but if you are here, there are plenty of eateries from budget hawker stalls to high-end fine dining restaurants here.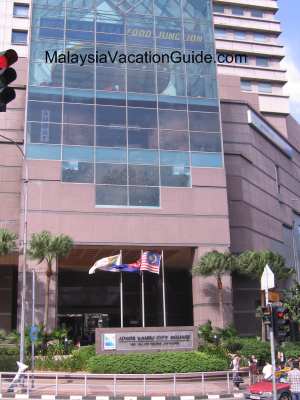 The City Square, Johor Bahru near the KTM train station and bus station.
It is also an ideal location for shopping as there are many shopping malls around the city. Take time off and visit some of the historical landmarks such as Sultan Ibrahim Building, Sultan Abu Bakar Royal Museum and Johor Art Gallery.
In the evening, take a cruise at Danga Bay and enjoy the landscape of the city of Johor Bahru and Singapore.
Here are some information that may be of help while you are here.

Shopping Malls

City Square
This mall is located within walking distance from the CIQ. The mall is connected to Johor Bahru Sentral through a pedestrian bridge. JB Sentral will be the new transportation hub of Johor similar to KL Sentral. There will be a new KTM train station and bus station located here. This mall has many food and shops outlets as well as a Cathay Cineplex Cinema. MPH bookstore, Popular bookstore and Watsons are also located here. The food outlets include:
Food Junction, a food court with varieties of local cuisines and beverages.
Japanese Kinsahi Restaurant.
Kenny Rogers Roasters.
Marrybrown and McDonalds.
Seoul Garden.
Sedap Corner.
Address: 106-108 Jalan Wong Ah Fook
AEON Tebrau City
This 3 level mall was opened in January 2006 and is the largest mall in Johor Bahru. The anchor tenant here is JUSCO hypermarket.
Other international fashion franchises such as MNG, Dorothy Perkins and Giordano are also here. Toys 'R' Us, the US toy shop is here as well. Other outlets include:
Fast food restaurants A & W, Pizza Hut and KFC.
Golden Village Cinema for your entertainment needs.
Harris Bookstore for your reading pleasure.
Address: AEON Tebrau City, No 1, Jalan Desa Tebrau. The operation hours is from 10am to 10pm everyday.

Plaza Kotaraya
This is a smaller and older mall which is also within walking distance from the CIQ and City Square. The main tenant here is UO Superstore which has occupied 4 levels of the mall. Prices for household goods, clothes and groceries are competitive.Not many eateries here but Pizza Hut and a food court are located here. The operation hours is from 10am to 10pm everyday.
Address: Jalan Trus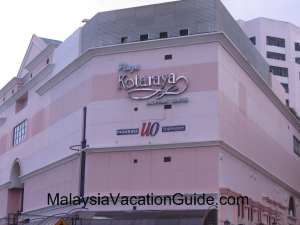 Plaza Kotaraya Shopping Mall.
Carrefour
This hypermarket chain is located at the Pasir Gudang Highway-Tebrau Highway intersection. As typical of this chain hypermarket, you will be able to shop for household groceries, clothes and other daily needs here. KFC, a food court and post office are located here as well.
The operation hours are Monday to Friday 9:30am-10:30pm, Saturday 8:00am–11:00pm, Sunday 8:00am–10:30 pm
Address: 138 Jalan Pandan (Tebrau highway)

Danga City Mall
This mall's anchor tenant is Metrojaya Deparment Store. There is a floor dedicated to computers and IT products as well as cameras and handphones. As there are many stalls here, the prices of these products are competitive. Chinese and Japanese restaurants are also located here.
The operation hours is from 10am to 9pm daily.
Address: Jalan Tun Abdul Razak Susur 1

Other Malls
Other malls in Johor Bahru are Holiday Plaza, Plaza Pelangi, Pelangi Leisure Mall where Golden Screen Cinemas has an outlet, Plaza Sentosa and ZON Mall.
If you do not mind outdoor shopping, try going to Jalan Segget Bazaar, daily open-air bazaar that opens from 6pm to 2am.

Landmarks and Art Gallery

Sultan Abu Bakar Royal Palace Museum
This museum is located along Jalan Tun Doktor Ismail and was built in 1866. The furniture was imported from England by Sultan Abu Bakar. There are exhibits of souvenirs, silverware, oil paintings. It is divided into the Dewan, the Throne Room, the Treasure Rooms and the Hunting Rooms.The museum opens from Saturday to Thursday from 9am to 5pm. The entrance fees for Malaysians and Singaporeans are RM5/adult and RM1/child. Foreigners pay USD7/adult and USD3/child.

Sultan Ibrahim Building
This building was built in 1940 and is located on Bukit Timbalan. It used to house the State Secretariat and the offices of the state government until recently when the offices were moved to Kota Iskandar.
Its architecture is of Renaissance style and an overlay of Anglo-Malay influence. You will need to inform the security guards before entering the compound of the building.
Visitors are not allowed into the offices. Spend 30 minutes taking some shots of the building and a high-ground view of the surrounding landscape. It is opened from 8:00am to 5pm, Monday to Friday except public holidays and weekends.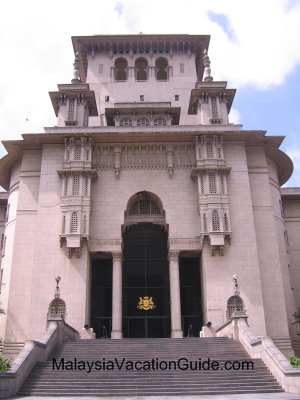 Sultan Ibrahim Building, built in 1940.
Johor Bahru Art Gallery
This double storey white building was built in 1910 and exhibits modern Malaysian paintings. It is loacted at 144 Jalan Petrie near the Thistle Hotel.
Plan to spend 30 minutes to 1 hour here. It is open daily from 9am to 4:30pm except public holidays. Admission is free.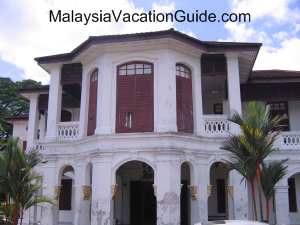 The 2-storey Johor Art Gallery.
Cruise
In the evening, try taking a cruise at Danga Bay. Two cruises are available i.e. the Speedboat Cruise and the Danga Cruise 8. The Speedboat cruise will take you to the pier beside Marina Club building, the Singapore-Johor causeway and back.It will cost RM10/adult and RM5/child for a cruise duration of 25 minutes and is available hourly.
The Danga Cruise 8 did the same cruise but it includes buffet dinner on board the triple-deck ship. The cost is RM50/person and is only available on Friday, Saturday and Sunday. The cruise starts from 8pm.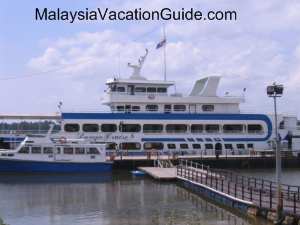 The Danga Cruise 8 ship.
Hiap Joo Bakery
This bakery located at Jalan Tan Hiok Nee was started by Lim Joo Ban in 1930 and is now run by the younger Lim generation. Take a trip here and choose from a varieties of stuffed buns that are made inside a charcoal oven. Other products include the sandwich loaves and French loaves. All the recipe remains virtually with varieties such as kaya bun, coconut bun, banana bun, red bean bun just to name a few.
The dough is prepared in the morning after which they are placed in the charcoal oven using a long shovel for baking. The buns are ready by 2pm. Chances are you will have to queue up to purchase these buns as they are popular with the city folks.They are best eaten while still hot.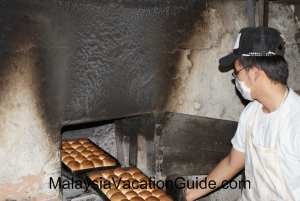 The traditional buns produced using charcoal oven.
The city of JB
A short video clip on the city of JB taken from Puteri Pacific Hotel. This hotel is usually full when there is an event at Persada Johor International Convention Centre. Get and compare the rates of this hotel here.
Notice the historical Sultan Ibrahim Building.