Sitiawan Mee Suah
Get Sitiawan mee suah directly from the producer if you are in this part of the world. The producer of this noodles is Hock Chew So Mee Shua and it is located at Kampung Cina. Famous among the Hock Chew people, the noodles are usually taken with red wine chicken soup or herbal chicken soup. The noodles are plain in taste and the main ingredient used to make it is wheat four.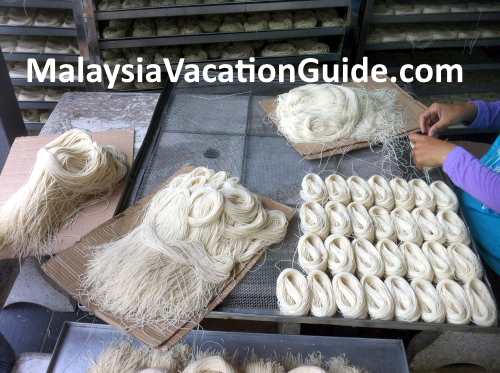 Mee Suah
This is one of the locally produced food that you can get from Sitiawan and give to your relatives or friends if you are not sure of what to get for then while you are on holiday here. This small shop with the factory beside it is located along the same road as Villa Seafood Restaurant.
Drop by the shop after your meal at the restaurant and get some of these noodles before leaving this place. The price is cheaper compared to if you were to get it from other stores.
Sitiawan Mee Suah Factory
Once you are here, you will be able to see how the noodles are produced. It is quite labour intensive as most of the processes still require the use of manual work. Once the flour has been mixed and the noodles being produced, they will have to be dried by placing them on stands under the sun.
If you want to see the drying process, make sure that you go when the sun is still bright and it is not raining.
If you have your own transport and are holidaying in Pangkor, a short detour is all you need to come here. Kampung Cina is about 12km away from Lumut town. You can drop by here as you go to the jetty in Lumut. The other better option is to come here after your trip to Pangkor so that you do not have to carry the noodles to the island.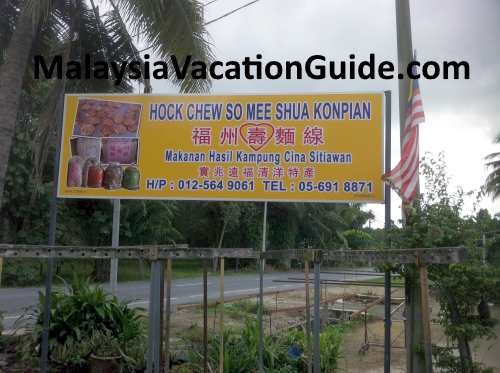 Signage of the shop.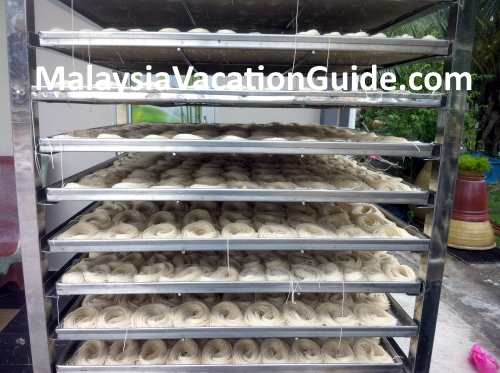 Drying the noodles.
Stands used to dry the noodles.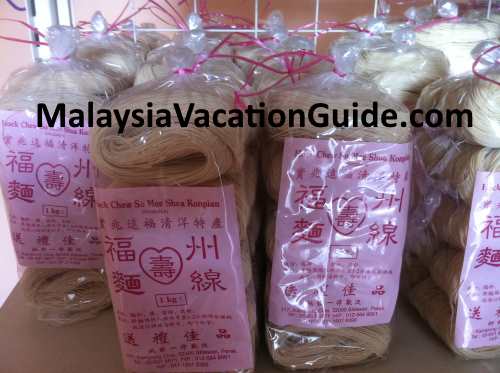 Finished products for sale.
Thicker version of the noodles.
You can purchase the noodles directly from the producer at the shop itself. A packet costs RM8 per kg. You can also try the thicker version of the mee suah. The red wine that is used to cook with this noodles is also sold here for about RM14 per bottle.
Address: Hock Chew So Mee Shua, No 117, Kampung Cina, 32000 Sitiawan. Perak.
Tel: 05-691 8871.