Sipadan Island
Sipadan Island is made famous by Jacques Cousteau documentary called "Ghost of the Sea Turtle", this island has been one of the most popular diving destination for many divers. Located off the north-east coast of Sabah at the Celebes Sea, this island is formed by corals on an extinct volcanic cone that rises 600 m or 2,000 feet from the seabed.

It has one of the most richest marine habitats with over 3,000 species of fish in the world along with Galapagos Islands and Truk in Micronesia. This island has been voted as the best diving spot in the world by divers who came here.
The uniqueness of this island is the drop-off of approximately 600 m or 2,000 feet just 9 m or 30 feet away from the beach. It is like a wall that drops off suddenly to a bottomless depth. As you dive, you will be able to see groups of green turtles and hawksbill turtles resting on corals in their natural habitat.
Hammerhead shark, leopard shark and grey reef shark are a common marine life that you will encounter here. The elongated fish with strong jaw fish called barracuda is commonly found here. Other marine life include the octopus, the parrot fish and manta rays to name a few.

As with any marine park, please remember the rules below to ensure that this island remains what it is today.
No fishing or killing of fish is allowed.
No collecting of corals or other marine organisms.
No collecting sand, dead shells or dead corals.
No polluting or littering.
No anchoring on reefs.
No building or erecting any type of structure on the water.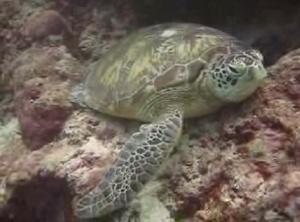 The turtle at the beautiful island.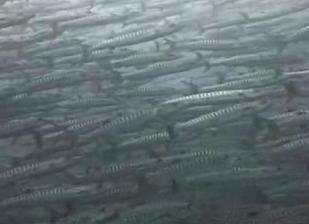 The school of fish in their natural habitat.
In a move to conserve the eco-system of Sipadan Island, the Government of Malaysia has instructed all on site dive and resort operators of Sipadan to move their structures out of the island by December 31, 2004. Diving will continue to be allowed here where they will be able to come here on a day trip basis from the surrounding islands.
Video of Sipadan Island
See the video of the fascinating marine life at Sipadan. 
Getting Here
The best time to visit this island is from the month of June to September. AirAsia airline fly to Tawau regularly. From Tawau, take a cab to Semporna town. From Semporna town, take a 45 minutes boat to Sipadan. Make sure that you do your booking with a licensed diving operators before coming here.

Accommodation
As all resorts on Sipadan Island had been moved out by the directive of the Government, divers who come here will stay at the islands nearby. They are Mabul Island or Kapalai Island. Mabul Island is approximately 25 minutes away by boat to Sipadan.