Perak Events 2016
Here is a listing of Perak events 2016 that you can use to plan your visit to this state. The main events that you should take note of are the Pesta Laut Pangkor Lumut 2016 in May, Ipoh International Run in July. Pangkor International Development Dialogue in September and "Festival Puisi & Lagu Rakyat Antarabangsa Pangkor Kali Ke-7" in December.
| | |
| --- | --- |
| Lumut Observatory Tower | Leaning Tower of Teluk Intan |
Perak Events 2016 Location
The main events that will be held in Perak are centred around the location below.
Gopeng
Ipoh
Teluk Intan
Royal Belum, Grik
Bukit Larut
Pengkalan Hulu
Lost World of Tambun
Lumut
Bukit Merah
Dataran Lenggong
Kampar
Taiping
Pangkor
Kellie's Castle
Taiping Zoo
Muzium Darul Ridzuan
Bagan Serai
Bukit Chandan
JANUARY

30-31 Jan 2016 : Gua Tempurung Lipstik Challenge

Venue: Gua Kandu, Gopeng
24-30 Jan 2016 : Ipoh Kreative
Venue: Ipoh
FEBRUARY

21-26 Feb 2016 : Malaysia-Japan Interaction Culture Experience Rides
Venue: Ipoh
March

5-6 Mar 2016 : Pekan Kartun V.3
Venue: Mydin Meru, Ipoh
11-13 Mar 2016 : Royal Belum Photography Contest
Venue: Royal Belum
11-13 Mar 2016 : Royal Belum Arts & Culture Festival
Venue: Ipoh
19 Mar 2016 : Go Gopeng Challenge 2016
Venue: Gopeng
April

29 April-12 May 2016 : 11th Malaysian Nash Hash 2016
Venue: Ipoh
13 April 2016 : Pengkalan Hulu Songkran Festival
Venue: Pengkalan Hulu
17 April 2016 : King of Bukit Larut
Venue: Bukit Larut
10 April-1 May 2016 : International British Bikes Festival
Venue: Dataran Ipoh
May
13-15 May 2016 : Ipoh International Waiter Race
Venue: Lost World Of Tambun
21 May 2016 : Perak Folklore Music Festival
Venue: Dataran Ipoh
21-23 May 2016 : Royal Belum Eco Challenge
Venue: Royal Belum
26-29 May 2016 : Pesta Laut Pangkor Lumut
Venue: Lumut
June
4-6 June 2016 : 113 Triathlon
Venue: Bukit Merah
16 June 2016 : Imarah Ramadhan
Venue: Ipoh
21 June 2016 : Bubur Lampuk Mega
Venue: Dataran Ipoh
30 June 2016 : 4th Lenggong Carnival to commemorate Lenggong Valley as a World Heritage Site
Venue: Dataran Lenggong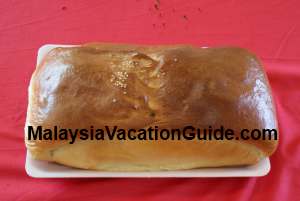 Kampar Curry Chicken Bread
July Perak Events 2016
24 July 2016 : Kampar Majesty Ride
Venue: Kampar
31 July 2016 : Ipoh International Run
Venue: Stadium Indra Mulia, Ipoh
Aug
26-28 Aug 2016 : Pangkor International Maritime
28 Aug 2016 : Raintown Half Marathon
Venue: Dataran MPT Taiping
Sept
5-6 Sept 2016 : Kellie's Photography Festival
Venue: Kellie's Castle
5-7 Sept 2016 : Pangkor International Development Dialogue
Venue: Casuarina@Meru
16-18 Sept 2016 : Zoorama
Venue: Taiping Zoo and Night Safari
17 Sept 2016 : Karnival Rakit Berhias Pengkalan Hulu
Venue: Tasik Takong, Pengkalan Hulu
17-19 Sept 2016 : Royal Belum International Bird Expedition
Venue: Royal Belum
Oct
17-22 Oct 2016 : Belum Rainforest Summit
Venue: Belum Rainforest Resort
28-30 Oct 2016 : Royal Belum Kayak Challenge
Venue: Royal Belum
Nov
18-20 Nov 2016 : Royal Belum Angkling Master
Venue: Royal Belum
25-28 Nov 2016 : Ipoh Food Festival
Venue: Ipoh
29-30 Nov 2016 : Port Fest V.2
Venue: Dataran Ipoh
Dec
10-13 Dec 2016 : Festival Puisi & Lagu Rakyat Antarabangsa Pangkor Kali Ke 7(PULARA)
Venue: Pulau Pangkor
10-11 Dec 2016 : Kerian International Dualthlon
Venue: Bagan Serai
31 Dec 2016 : Lenggong Traditional Food Festival
Venue: Dataran Medan Selera, Lenggong