Malaysia Travel News 2017
Here is the archive of Malaysia Travel News 2017 listing. You can find the events and happenings of Malaysia relating to tourism here. See events of 2018.
Malaysia Sale

Here are the dates when most shopping malls will be offering discounts.
1Malaysia Super Sale: 1st Mar - 31st Mar 2017
1Malaysia Mega Sale Carnival: 16th June - 31st Aug 2017
1Malaysia Year End Sale: 1st November 2017 - 31st Dec 2017
Penang Bridge International Marathon 2017
This run will be held on 26th Nov 2017. If you are unable to run the marathon, you can join the Half Marathon, 10km Run or the Fun Run. More info at http://www.penangmarathon.gov.my
MATTA Fair Penang 2017

This travel fair will be held at Straits Quay Convention Centre, Penang from 13-15 Oct 2017. This will be the best time to get your domestic and overseas travel packages for your end of the year travel.
National Holiday Sept 4, 2017 

The Prime Minister of Malaysia had declared that 4 Sept 2017(Monday)will be a national holiday in Malaysia for the outstanding achievement in the just concluded SEA Games 2017. Enjoy the extra day off.
MATTA FAIR(II) 2017

The second MATTA FAIR of 2017 in Kuala Lumpur will be held from 8th-10th Sept 2017 at PWTC. Entrance fee is RM4/person and children below 12 is free. The time is from 10am to 9pm daily. Get better deals when you book your airfares and tour packages during this time.
MITM Travel Fair KL 2017
This travel fair is back from 11-13 August 2017. A good time to buy your travel for the second half of the year. Venue is at Mid Valley Exhibition Centre and entrance to this fair is FREE.
MITM Travel Fair Penang 2017
The Penang MITM Travel fair will be on from 8-9 July 2017. A good time to buy your flight tickets and tour packages for the second half of the year. Venue is at SPICE Arena, Bayan Lepas, Penang from 10am-9pm.
Hari Raya Aidilfitri Open House 
1) Istana Negara Open House

Date: 25th June 2017, Time: 10am-2pm
Venue: Istana Negara, Kuala Lumpur
2) Prime Minister & Cabinet Members Open House

Date: 25th June 2017, Time: 10am-4pm
Venue: Seri Perdana, Putrajaya
Stamp Fair 
The Philatelic Society of Malaysia will be organizing a Stamp Fair from 3-4 June 2017. If you are into stamps, free yourself to go to this fair on either one of these days. Free admission. Venue: MBPJ Community Library, Lot 389, Jalan Selangor, Section 3. Time: 9:30am-5:30pm.
You can also go to purchase first day cover stamps at Dayabumi Pos Malaysia or join the Standing Order Deposit Accounts (SODA) to get every issue of the stamps.
Tadau Ka'amatan - Harvest Festival Sabah

This month long celebration will have its finale from 30-31 May 2017 at Kadazan Dusun Cultural Association Centre (KDCA), Penampang, Sabahwith dances, food, songs and traditional games being planned for this annual event.
Borneo Jazz Festival 2017
This musical festival will be back from 12-13 May 2017 in Miri, Sarawak. Venue: ParkCity Everly Hotel, Miri, Sarawak.
Sabah Dragon Boat Race 2017
This paddling event will be held from 13-14 May 2017 at Likas Bay, Kota Kinabalu, Sabah. 
Sabah Fest 2017
Sabah Fest 2017 will be on from 5-7 May 2017. Venue is Auditorium Kompleks JKKN Sabah, Kota Kinabalu. Time from 4pm-10pm. See the performances and get some handicrafts while you are here. Tickets are required to enter. 
Starwalk Ipoh 2017

Join the walk on May 7, 2017 at Perak Turf Club. There are many prizes to be won including holiday package to Pangkor Laut Resort. The event will flagged off at 7am and prior registration is required.
You can register at Star Media Ipoh office at Lorong Chung Thye Phin from 9am to 5pm  or sign up online. The fee is RM13 and registration will close on April 14, 2017.
Public Holiday

24th April 2017 has been declared a holiday in conjunction with the installation of Sultan Muhammad V as the 15th Yang di-Pertuan Agong.
Regatta Lepa 2017

This will be the 24th times that the single-mast sailing event will be in Sabah. It will be on from 21-24 April 2017 at Regatta Lepa Square, Semporna.
LIMA 2017

This year's Langkawi International Maritime & Aerospace Exhibition will be held from 21-25 Mar 2017 at Mahsuri International Exhibition Centre. The first three days of the show is strictly for trade visitors and professionals only. The public can visit the show from 24-25 Mar 2017.
MATTA FAIR 2017

The first MATTA FAIR of 2017 in Kuala Lumpur will be held from 17th-19th Mar 2017 at PWTC. Entrance fee is RM4/person and children below 12 is free. The time is from 10am to 9pm daily.
Besides the outbound travel packages, there will be a hall dedicated to domestic tourism. Visit Perak Year 2017 will be featured prominently here.
MITA Tourism Fair 2017

Held for the second time, this year's event organized by Malaysia Inbound Tourism Association is aimed at promoting domestic tourism as well as to ASEAN countries. Visit Perak Year, Visit Pahang Year and Visit Terengganu Year will also be promoted at this fair. Admission is FREE.
Date: 24th-26th Feb 2017
Time: 10am to 9pm
Venue: MINES International Exhibition & Convention Centre (MIECC), Seri Kembangan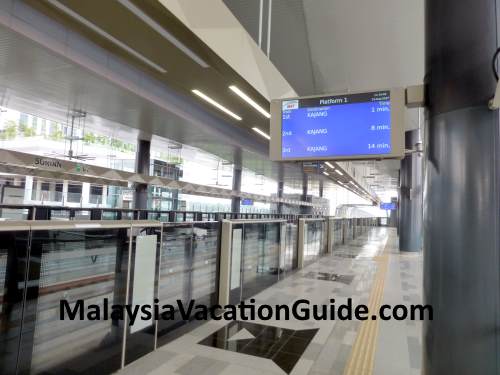 Tourism Chinese New Year Celebration

Join this celebration which will be held in Penang. This event will be open by Penang Chief Minister and Malaysia Tourism & Culture Minister. There will be cultural performance by local artistes.
Date: 24 Feb 2017
Time: 8pm-10:15pm
Venue: Jalan Padang Kota Lama, Georgetown, Penang
Malaysia Airlines Travel Fair
MAS is having MATF where you will get great discounts if you purchase your tickets from now until 15 Feb 2017. Travel for the booking is from 15 Feb 2017 to 20 June 2017. For example, the KL-Auckland economy return ticket starts from RM2099 and KL-Denpasar(Bali) starts from RM489. Check out the pricing of all routes at MAS official website here.
Car-Free Day in Shah Alam
Effective Jan 2017, Shah Alam city in the morning (6:30am-9am) will be a car-free day on every second Sunday of the month. Persiaran Bandaraya, Persiaran Tasik, Persiaran Perbandaran and Persiaran Tasik are some of the roads that will be closed to motorized vehicles.
Walking, cycling, skating and running are some of the activities that you can do here. You can rent the bicycles and roller skates as well.
This event is aimed to encourage everyone to lead a healthy lifestyles besides cutting down carbon emission in this city.
MCA Chinese New Year Open House
In conjunction with the Chinese New Year, MCA will be hosting the open house on 28th Jan 2017 at Wisma MCA, Kuala Lumpur. This national event will start at 9am and everyone is invited to attend the celebration. The Prime Minister and Deputy Prime Minister will be here to join in the celebration.
New Marine Park Conservation Fee

Effective 1 Jan 2017, the fees to enter the marine parks in Malaysia will be increased to help the funding of managing and maintaining these parks. Here are the new rates.
Adults: RM5/person (Malaysian), RM30/person (Non-Malaysian)
Children & Senior Citizens: RM2/person (Malaysian), RM15/person (Non-Malaysian)
Disabled: Free
Camping fee: RM10/night
Commercial and documentary filming: RM100/day
Research permit: RM200 fee and RM500 deposit
Scuba diving operator: RM150/month
Private Yacht: RM100/entry
Headdress Exhibition At Muzium Tekstil Negara
The National Textile Museum is currently having a special exhibition with the theme Headdress Exhibition: Beauty & Power which will be on until 25 Feb 2017. Admission is FREE.