Malaysia Stamps
Thinking of getting Malaysia stamps? These days, philately as a hobby is getting less interest from the younger generation. The advancement of information technology has greatly reduced the number of stamps used as most communications are using emails. However, if you are one of those who are still into stamps collection, you may want to consider some of the Malaysia stamps that you can purchase from the Stamp and Philatelic Division located at Dayabumi, Kuala Lumpur.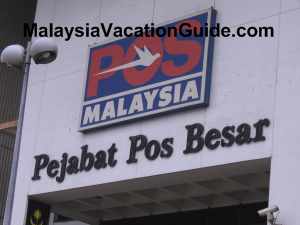 The Pos Malaysia Headquarters at Dayabumi.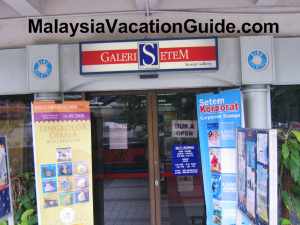 Stamp Gallery that has many exhibits on Malaysia stamps.
Located at Level 1, there is a stamp gallery where you can see the stamps that have been issued by Pos Malaysia over the past few decades. You can also purchase some of the stamps and first day cover depending on the availability of the stock. Some of the themes that have been produced include snakes of Malaysia, wild ducks, highlands, fishes, fruits, expedition, animals of Malaysia, head gears of Malaysia and numerous other themes.
If you want to get every issue of the stamps, you can sign up for Standing Order Deposit Accounts or SODA where you deposit RM50 in advance. By maintaining this account, you can order special issue of stamps or other items of your choice. This is one of the best way to make sure that you get every issue of the stamps that are being issued.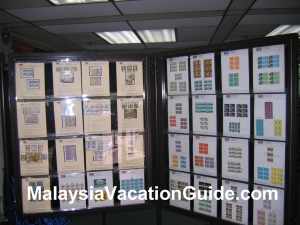 Exhibits on stamps of Malaysia.
The typical display at the gallery. The themes change depending on the issuing of new stamps.
Personalised Stamps
If you have the budget and would like to have your own image on the stamps to commemorate your wedding anniversary, valentine day, birthday, the birth of your baby or any other special events, you can use the personalised stamps service known as "Setemku" or My Stamps.
It costs a minimum of RM500 to do this and the stamps are valid stamps which means that you can use the stamps to send letters or documents. A great way to remember special occasion.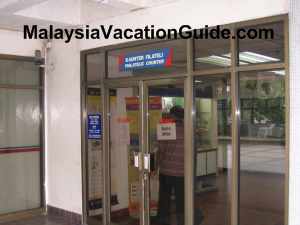 The entrance to the counters where you can purchase the stamps.
Air conditioned counters to serve you.
Address and Operation Hours
Address

Level 1, Pos Malaysia Headquarters
Dayabumi Complex
50670 Kuala Lumpur
Malaysia

Tel: +603 2267 2000 for SODA enquiry.
Tel: +603 2267 2001 for philatelic counter.
Tel: +603 2267 2002 for SetemKu enquiry


Operation Hours of Stamp Gallery
Monday to Thursday: 8:30am to 5:00pm 
Friday: 8:30am to 1:00pm and 2:00pm to 5:00pm
Closed on Saturday, Sunday and public holidays.

Getting Here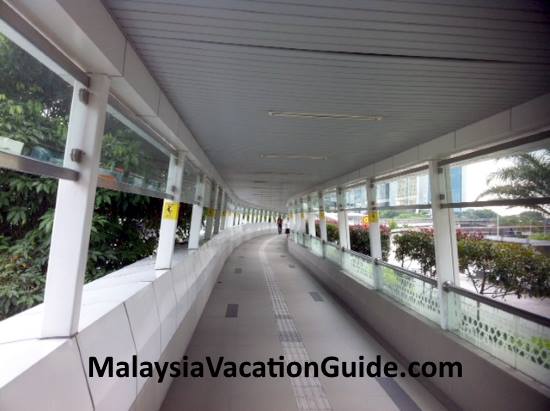 The walkway that connects Pasar Seni LRT Station and Dayabumi.
Pos Malaysia headquarters is located at Dayabumi, one of the earliest and prominent high-rise building in the city of Kuala Lumpur. The best way to get here is using the Kelana Jaya Line LRT and alight at Pasar Seni Station. Take the connecting covered walkway that leads all the way to Pos Malaysia and Dayabumi. It will take you 5-10 minutes walk to reach here.