Lumut Hotels
If you are looking for Lumut hotels, there are close to 15 hotels, inns and resorts that you can choose from. Most of the hotels are located near the Lumut jetty and some have a good view of the sea. Compared to resorts in Pangkor Island, the room rates here are cheaper and more affordable for those who are tight on budget.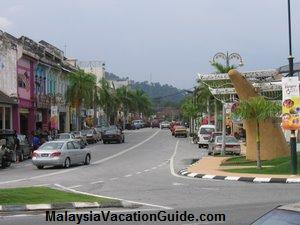 The busy town during the weekends and public holidays.
One of the bigger hotel here is the Orient Star Hotel. It has its own swimming pool and is located by the sea. Others with pool facility include Lumut Country Resort. A list of accommodation is provided as below for your reference.

List of Accommodation
Hotel/Resort
Tel No.
Remarks
Orient Star Hotel
05-6834 199
2-3 Star Hotel with pool
Lumut Valley Resort
& Apartment
05-6834 081
Blue Bay Resort
05-6836 939
Lumut Country Resort
05-6835 109
Lumut International
Yacht Club
05-6804 200
Putra Hotel
05-6838 000
DJ Palace Hotel
05-6837 888
Indah Hotel
05-6835 064
Lumut Villa Inn
05-6835 982
Galaxy Inn Hotel
05-6838 731
Era Hotel
05-6838 910
Dinding Hotel
05-6835 494
Phim Lam Hooi Hotel
05-6835 641
Desair Apartment
05-6838 987
Getting To Lumut
If you are coming from Kuala Lumpur, you can get to the town by bus or taxi. There are a few bus companies that come to this town everyday. If you are taking bus, the journey from Kuala Lumpur to Lumut will take you approximately 4.5 hours. Taking a taxi is more costly but the journey will take about 4 hours as there will be fewer stops compared to taking the express bus.
If you are driving, there are plenty of overnight parking lots available where you can park your car. The multi-storey car park is now open for use to the public. As in any parking facilities, make sure that you double lock your car to deter thieves from stealing it.