Centrepoint Bandar Utama
Centrepoint Bandar Utama shopping centre is located within 5 minutes drive away from the more popular 1 Utama Shopping. This mall is a favourite place for residents within the vicinity as it is not as crowded as the big shopping mall. A new wing with retail outlets which include a DIY shop, Manhattan Fish Restaurant, a Thai Restaurant, Starbuck Cafe, a clinic and a hair saloon have been added to this mall.
The spacious and comfortable outdoor dining at Centrepoint.
Although there isn't any big supermarket in this mall, you will be able to find retail shops that enable you to meet your daily needs. Outdoor dining is popular here with many outlets offering local and western cuisine. If you need to get your hair done, there are at least 2 hair saloons here with price ranges from RM10 - RM15 for a normal cut.
It even has a bicycle shop that provides repair services and sale of new bicycles. 7 Eleven retail outlet is also here. Those who love buns and bread related items will appreciate the bakery which offers a 50% discount after 9pm.
The greenery at the compound of Centrepoint.
Chrisian Bookstore
Canaanland Bookstore at Level 1 is the place to head for if you are looking for Christian books, CDs, gifts, T-shirt or Bibles. Those who join as members are entitled to a 10% discount for most purchases. Look out for their anniversary sale usually in August which offer discounts up to 30%. This is one of the Christian bookstores that has one of the latest books and CD release in town.
Opening hours:
Tuesday - Thursday : 11am - 8pm 
Friday - Saturday : 11am - 7pm
Sunday : 1pm - 5pm

CLOSED on Mondays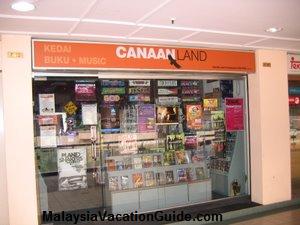 The entrance Canaaland Bookstore at Level 1.
Yamaha Music
Those who are into music will be glad to know that there is a Yamaha Music School here which offers drum, piano, electric guitar, electric bass, keyboard, flute and alto saxophone classes. This school is located at 1st Floor of the building.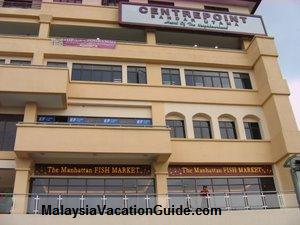 The Building.
Getting Here
If you are driving and coming from LDP or SPRINT highway, head for Damansara NKVE toll plaza. Keep to your left as you are about to reach the toll but do not go into the toll plaza. Go up the ramp after SHELL and BHP petrol kiosks and you will reach a traffic light. Turn right and you will reach another traffic light. Keep going straight and turn right at the second traffic light. You will not miss this building.