Cameron Highlands Strawberry
Cameron Highlands strawberry farm is another attraction that you should not miss. There are a few of these farms as you go up the highlands starting from Tanah Rata to Kea Farm. The lowlands in other parts of Malaysia are not able to grow this fruit hence many locals enjoy coming here to experience something that is different from normal.

The strawberries industry here is well developed and there are many products that have been derived from this fruit. Remember to stop by and taste the juices, fresh fruit, sundae, jam and a variety of other products derived from this colourful fruit. Some farms even allow you to pick the fruits directly from the plants before you purchase them. A good experience if you have not done it before.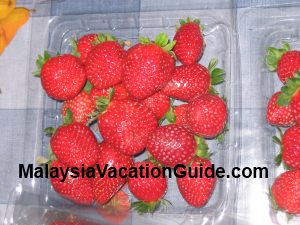 Fresh strawberries from the farm.
These days, most of the strawberries are hydroponically grown and in green-houses. Using this method greatly enhances the quality of the fruit when harvested. One of the farms that you should not miss is Big Red Strawberry Farm which is located at Brinchang. The other place to get this fruit is S'Corner at Kea Farm, a town just after Brinchang. Other farms are Raju's Hill Strawberry Farm and Healthy Strawberry Farm.
Big Red Strawberry Farm 


Head to the town of Brinchang and take a walk to this farm which is open everyday from 8:30am to 6pm. This is one of the biggest farm on this highlands and there are many vegetables that are also being grown here.
The farm is owned by K. Sinnathamby & Sons. It is located 5 minutes away from Star Regency Hotel and beside Cactus Valley. Admission to this huge farm is free of charge with over 200 parking bays.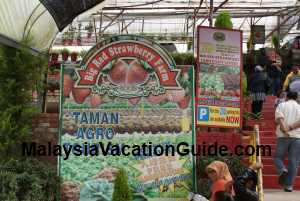 The entrance to the Big Red Strawberry Farm.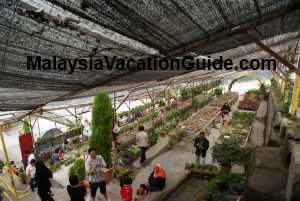 The typical greenhouse farm that you will see on this highlands.
Besides strawberries, you can also see cactus being grown here. If you like, you can purchase them and bring back with you. Lettuces, salad and tomatoes are also produced here. The entire area is a greenhouse where a transparent plastic cover had been built over it to control the amount of sun that the plants received.
The strawberries and lettuces are hydroponically grown You can pick your own strawberries and tomatoes before proceeding to the counter to pay for them. Roses are also grown here and you are allowed to take as many photographs as you want.
Head for the cafeteria which is located higher up the farm. Strawberries related snacks such as sundae, milk shake, juice, ice-cream, tarts, muffins, chocolate fondue and cakes are sold here. There are plenty of tables and chairs for you to sit and relax after the walk.
Scones together with tea from the highlands are also available here. It is not possible to try out all the food here hence you may want to come back another day if you have the time.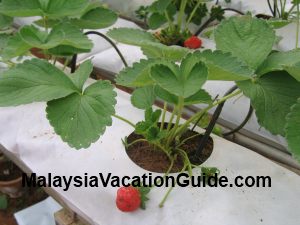 The hydroponically growned Cameron Highlands strawberry.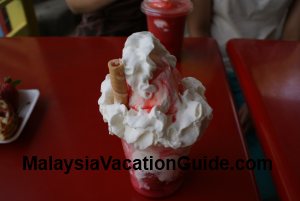 The delicious sundae from the cafeteria.
As the fresh strawberries are best taken fresh, it is not a good idea to bring back home as the long journey will degrade their quality. Therefore, get some souvenirs from the gift shop just beside the cafeteria. Jams, biscuits, tea and toys are some of the products that you can purchase as souvenir for your family or friends back home.
Call Tel: +6 05 4913 327 for more information.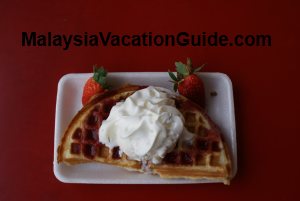 The pancake.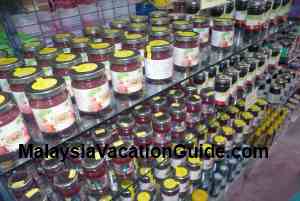 Get a few bottles of jam and biscuits at the gift shop.
S'Corner Cameron Products 


S'Corner is the latest centre that is open to the public to visit. It is located at Kea Farm along the main road. You will not miss it as there is a huge signage and a replica of the famous strawberry outside the centre.
This centre has a few shops that sell Cameron Highlands products. Fresh strawberries are grown and sold here as well. There is also a cafeteria that serves the typical snacks such as juices, scones, cakes and sandwiches.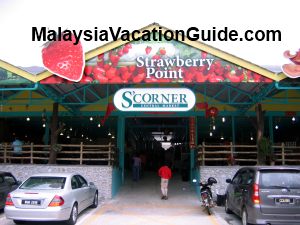 The S Corner.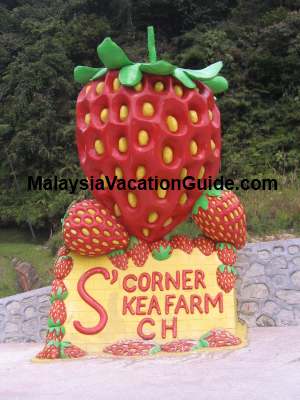 A replica of Cameron Highlands strawberry.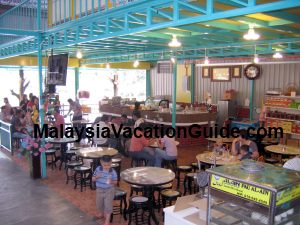 Take some snacks and juice at the cafeteria.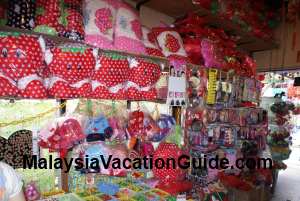 Souvenirs such as magnets and toys in the shape of strawberry can be bought at various Cameron Highlands strawberry farms or shops.
If you walk further up the shop, you will be able to see how mushrooms are growned. You can pick the colourful mushrooms and pay at the counter. It is interesting to see how these mushrooms are planted. Sweet potatoes, sweet corns, lettuces, brinjal, oranges and ladies fingers are some of the vegetables and fruits that are sold here.
Entrance is free of charge with parking bays provided if you are driving here.
Address:

Lot No: PP 51/2003
30000 Kea Farm
Cameron Highlands
Pahang