Cameron Highlands Food
If you are wondering what Cameron Highlands food that is special to try, you may want to consider having your lunch and dinner at Brinchang town and tea at Smokehouse Hotel or other cafes.
Steamboat is popular with the Chinese community especially when the weather is cold or when it rains. You take your dinner at your own pace by putting the ingredients into the soup that is boiled using gas or charcoal. Most of the ingredients include eggs, "mee hoon", fish balls, bean curd, spinach, watercress, mushrooms, fish slices, prawns, cabbage and chicken meat.
You can choose clear chicken soup or both chicken and tom yam soup. Take note that tom yam soup is spicy. We would recommend that you take the charcoal type of steamboat as many feel that this way of cooking taste better compared to using gas.
Make sure that you enquire specifically for charcoal type as not many shops have it. The majority of the shops use gas to cook the ingredients. Brinchang has the most number of shops that you can choose from.
During lunch hour, you can go for Chinese dishes taken together with rice. Call 3-4 dishes if you have about 3-4 persons and more if there are more people. Most of the prices are reasonable as there are many restaurants in Brinchang.
During tea time, try the the British tradition of having scones together with cream, strawberry jam and a cup of tea from the highlands.
Cameron Highlands Food - Charcoal Steamboat Dinner 


There are 2-3 restaurants in Brinchang that serve steamboat using charcoal as the source of heating. Compared to the gas source of heating, the centre part of the charcoal type has a long "hood" that discharges the heat to the atmosphere. This is to prevent the ashes from falling into the food. Many agreed that this type of steamboat taste better.
Steamboat dinner.
Notice the ingredients that you cook yourself by placing them into the boiling soup.
You can try going to Mountain House Restaurant at the town centre facing the main road. Take note that during weekends and public holidays, it may be difficult to find a parking bay. Try parking at the town as soon as you are able to find a spot and walk to this restaurant . The other restaurant that offers charcoal steamboat is Kwan Kee Restaurant. You can order based on the number of people eating e.g. RM14-RM16 per person.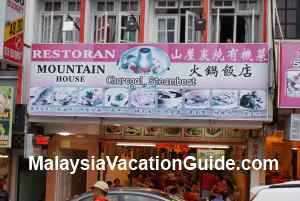 Mountain House Restaurant has charcoal steamboat dinner.
Notice the long "hood".

Cameron Highlands Food - Scones and Tea 


In the afternoon, it is usually the traditions of the British who stayed here during the colonial time to take afternoon tea. This tradition is still being practised here today even though most of the people who stayed here are not British. In keeping with this tradition, many hotels and cafe have set menu for tea from Cameron Highlands together with scones, strawberry jam and cream.
The scones and tea at the Smokehouse Hotel.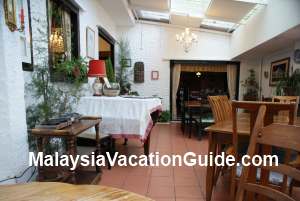 The well-decorated dining hall.
If you have the budget, you may want to try the scones at the Smokehouse Hotel. Go there during tea time and order the set menu. Two scones, a cup of tea from the highlands, strawberry jam and cream will cost you about RM40. Though more costly than other shops in town, the ambiance at the hotel gives you an English cottage experience. Plenty of decoration at the dining hall to make your time here enjoyable.
After the tea, take a walk round this hotel which was built in 1939. Nice garden with many flowers, plants and other greenery. Take some photos while you are here.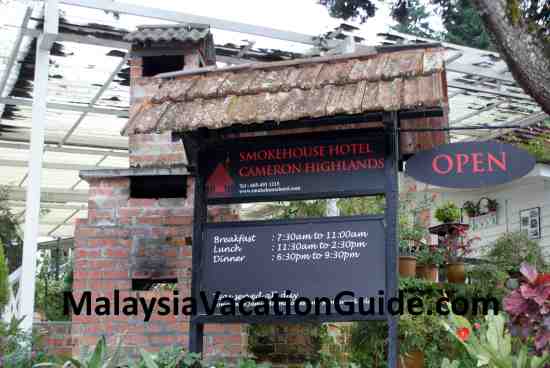 The Tudor-style hotel at Tanah Rata.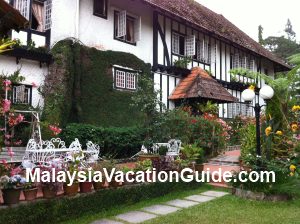 The garden of the hotel.
Address:

The Smokehouse Hotel and Restaurant Cameron Highlands
P. O. Box 77
Tanah Rata 
39007 Cameron Highlands
Pahang

Tel : +6 05 491 1215


Cameron Highlands Food - Lunch or Dinner At Brinchang Restaurants 


Take your lunch or dinner at one of the Chinese Restaurants in Brinchang town. You can order a variety of dishes to be taken together with rice, the main staple food of Malaysian. Remember to try the stir-fried Dragon Beard vegetable which is found in great abundance on this highlands.
Delicious steam chicken with herbs.
Make sure you try the Dragon Beard stir-fried vegetable.
Wai Yat Restaurant serves reasonably priced Chinese food with other specialty that include steam chicken with "kei-chi", a type of Chinese herbs and stir-fried mushrooms. It is interesting to note that the mushrooms that are grown here have a variety of colours.

Address:

Wai Yat Restaurant
No. 23-A, Jalan Besar
Brinchang
39100 Cameron Highlands

Tel: +6 05 491 1346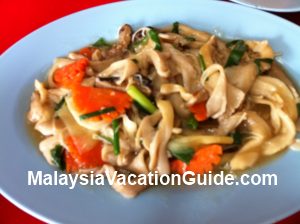 Stir-fried mushrooms.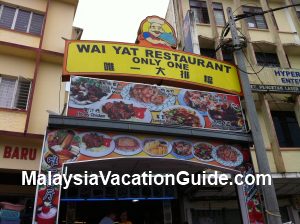 Wai Yat Restaurant at Brinchang town.