Batang Kali Food
If you are looking for Batang Kali food to try while on your way back home from Fraser's Hill or Genting Highlands, you may want to consider going to Chuan Kee Restaurant which is located near the vicinity of ECONSAVE supermarket in Batang Kali. This town is located in the district of Hulu Selangor and it was in this district that about 24 villagers were killed by the British soldiers during the Malaya Emergency in 1948.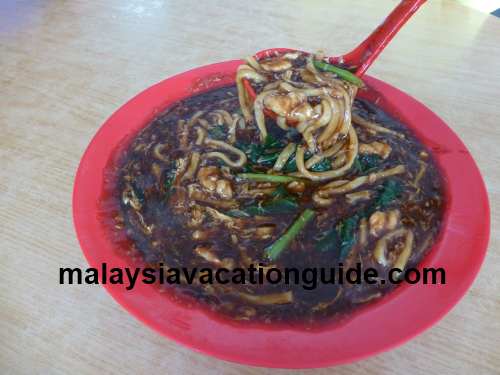 The famous "Loh Mee"
Hokkien Mee
This restaurant's specialties include the "loh mee" or noodles cooked in black sauce. A serving for two persons is about RM10 per bowl. You can order a bowl and share this dish. The noodles are cooked with other ingredients such as pork and the gravy is sticky in nature.
The other dish which is quite similar is "Hokkien Mee" or Hokkien noodles which is cooked with pork lard. It is also cooked with black sauce but is not as watery compared to the "loh mee". A bowl for 2 persons is also about RM10.
Fish cake is another side dish that you can order. It is one of the dish that everyone who comes here order. A plate that can be shared for 2-3 persons is about RM12. It is soft and taste good when taken with the chilly sauce provided.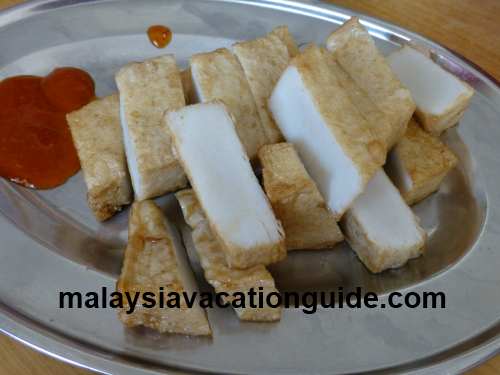 The soft and delicious fish cake.
Starfruit and pineapple juices.
While here, remember to try the pineapple juice and the starfruit juice. Each glass is about RM3 and they taste good especially when the day is hot and humid. If you like starfruit, this shop also sells them in packets for you to carry home as souvenir or for your own consumption.
Address:
Chuan Kee Restaurant
No. 57, Jalan Meranti
Bandar Utama
44300 Batang Kali
Selangor
Tel: 012-6641454
If you have a GPS, key in the following coordinates get here:
N03&deg 27.653' E101&deg 39.444'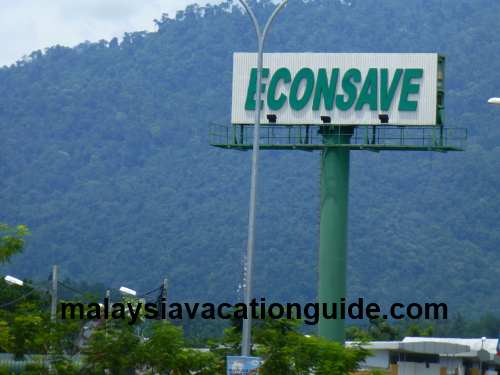 Econsave is located nearby.
Batang Kali Food - Chuang Kee Restaurant.