Sarawak Wind Cave & Fairy Cave
If you are in Kuching, one of the day trip that you can do is to visit Sarawak Wind Cave and Fairy Cave which are located near the town of Bau. Gold mining was the main activity in Bau in the 1840s with the Chinese being the main player in this industry. The mining of gold is still being carried out today.
Most tourists will pass by this town enroute to the two limestone caves. Bau town is about 48km away from Kuching and it will take 45 minutes drive to reach this historic town.

Sarawak Wind Cave
Wind Cave is about 5km southwest of Bau and is opened from 8:30 am to 4:30 pm. Entrance fee is RM3/adult and RM1.50/child. Underground streams run through the cave and boardwalks are made available for your convenience. However,these boardwalks are not lighted hence bringing your own torch light is essential. Torchlight can also be rented outside the cave for RM3.

Bring along your cap to prevent bats' dropping from falling on your head while you are here. Ensure that you have a good pair of non-slip shoes as certain stretches of the walkway can be slippery especially it they are wet. As the weather is usually humid here, bring a bottle of water to quench your thirst.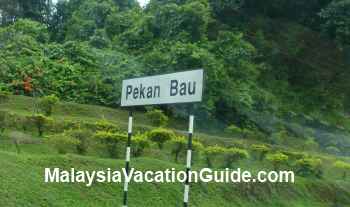 The gold-mining town of Bau is where you will reach before reaching the caves.
The Sarawak Wind Cave.
Lookout for the swallow birds in this cave. The birds' nests are valuable as they are in high demand as one of the Chinese delicacy. Countries such as China and Hong Kong have huge demand for these nests due to their ability to enhance the immune system. Plan to spend about 1 hour here.
This cave may be closed during the raining season for safety purpose. Check with your tour agent or information office before you come here.

Sarawak Fairy Cave
After visiting the Wind Cave, most visitors will proceed south to visit the Fairy Cave. Spend an hour or so exploring this cave. There are many formations that you can see and explore. Entrance to this cave is free of charge.

You will be able to see some unusual stalactites and stalagmites that were formed over thousands of years ago. Many Buddhist and Taoist come here to burn joss sticks as many of the formations are similar to their deities.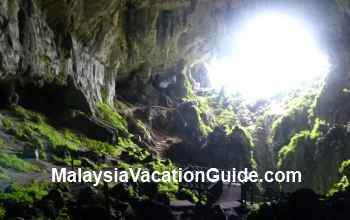 Fairy Cave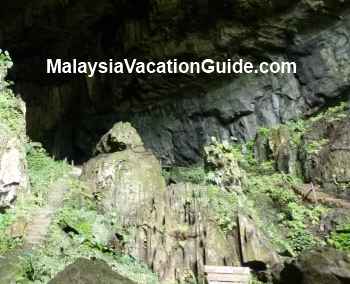 Another shot of the Fairy Cave in the Serikin District.
Accommodation
There are not many hotels in Bau for accommodation. You can do a half day trip to these caves and make Kuching as your base. There are better choices of hotels in the city.

Check and compare Kuching hotels rates here.
The huge wild flora growing near the cave.
Getting To Sarawak Wind Cave & Fairy Cave
Most tour operators in Kuching have packages that include the transport to and from your hotel, admission fee and lunch with a price of about RM90 per person. The total duration of the tour is about 4 hours to the two caves.
If you are in Kuching and prefer to go by yourself, you can take the shuttle bus STC(Sarawak Transport Company) Bus No. 2 near the open air market. The shuttle bus goes to Bau every hour from 6 am to 6 pm.
Once you arrive at Bau Bus Terminal, proceed to take Bus No. 3A that service(hourly basis) the Bau-Bidi Road from 6 am to 6:30 pm. Request the bus driver to drop you off at the junction to go to the Wind Cave. Walk for 10-15 minutes and you will reach this Cave. The Fairy Cave is about 40-50 minutes walk away from the Wind Cave but you can also wait for the same bus to drop you off at the junction to the the Fairy Cave. 
Further Enquiry
The Visitors Information Centre in Kuching is a must if you are planning to get more information and brochures of the places of interest in Sarawak. It is located opposite the Kuching Waterfront. You can also collect your brochures from Tourism Malaysia once you arrive at the airport.


Visitors Information Centre
Jln Tun Abang Haji Openg
93000 Kuching 
Sarawak

Tel: +60 82 410944
Operation Hours: 8am to 5pm from Monday-Friday. 
Closed on Sat, Sun and Public Holidays.