Amcorp Mall
The Amcorp Mall Shopping complex is located just opposite a 24-hour A&W Restaurant in Petaling Jaya. The Taman Jaya lake is located within the vicinity of the shopping mall. Compared to other major shopping malls such as 1 Utama or Sunway Pyramid, this mall does not have that many retail outlets.
The spacious interior of the Shopping Complex
Giant Supermarket is one of the main tenant here. If you are looking for a bookstore, Popular Bookstore of medium size is also located here. Other outlets that could be of interest to you are described below.

Antiques and Collectibles
A retail shop known as PJ Auctioneers is for those who are into old and interesting collectibles such as stamps, coins, currency notes, paintings, pictures and other antiques.
This outlet housed many collectibles and you can bring your old items here for evaluation and sale. However, take note that your antiques may not necessarily be sold as they are very selective in the goods that they purchased. This shop is located at level 3. The operation hours are:
Tuesdays to Sundays : 12pm to 7:30pm

Closed on Mondays
Another antique shop called Kaz Timeless Decor sells furniture and antiques. The items include old fan, radio from thetime of our forefathers and other collectibles. This shop is located at level 2 of the mall.

Snooker
For those who are into snooker, there is a snooker centre known as Snooker Arena which is located at level 3 of the mall. This snooker centre operates 7 days a week from 12:00pm - 3:00am. The rate of is about RM15/hour per table. Call+603 7958 6966 to book.
The entrance to the Snooker Arena
Amcorp Mall Flea Market
One of the main attractions of this mall is the weekly flea market which is reputed to be the biggest indoor flea marketin Klang Valley. This market was introduced here since 1998 and has been going on until today. You can join in too and set upa stall to sell items. However, you will need to rent a place from the management. See the details of the flea market below:
Day: Saturdays and Sundays 

Time: 10.00am - 6.00pm

Location: LG, 1st Floor, 2nd Floor and 3rd Floor

The list of merchandise that are sold here include:
Antiques
Collectibles
Arts & Craft
Household products
Second hand items

Within the Vicinity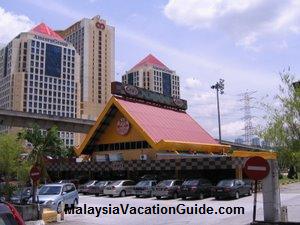 The A&W Restaurant
The A&W Restaurant which is located opposite the mall. This is one of the first and main A&W Restaurant that was set up in Klang Valley. It is a 24-hour restaurant and have drive-in counter. Hilton Hotel is also located within minutes from the mall.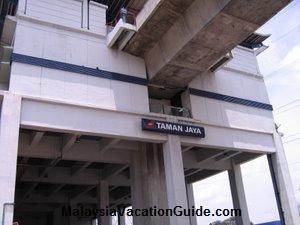 Taman Jaya LRT Station
Getting Here
Take the Kelana Jaya Line PUTRA LRT and head for Taman Jaya LRT Station. The mall is just 2 minutes walk away from this station.
If you are driving, there are plenty of outdoor and indoor parking bays that you can park. The outdoor parking rate opposite the mall is RM2 for the first hour and RM1 for the subsequent hours. The basement parking rate which is located inthe Amcorp Mall building itself is RM2 for the first 4 hours and RM1 for the subsequent hours.

Amcorp Mall
18 Persiaran Barat
46000 Petaling Jaya
Selangor

Tel: +603 7966 2488