Teluk Senangin Beach
Teluk Senangin Beach is located near the Damai Laut Swiss Garden Golf Resort and Spa. Unlike the more developed beaches such as Teluk Batik or Pangkor Island, this beach is not crowded as there are no international standard accommodation here. If you just want to find a quiet place or want a change, this beach is the place to go.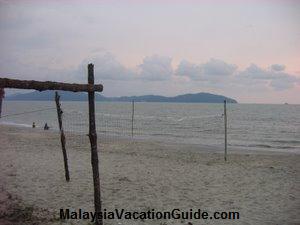 The stretch of white sandy beach in Teluk Senangin. There is a beach volleyball court that you can use here.
For those who want to stay here, there are a few chalets and motels that you can book. Do not expect any high class service as this place is still relatively undeveloped. If you are coming just for a day trip, there is a bathing facility that you can use. However, it is only opened during the weekends as this is the time when beach goers throng this place.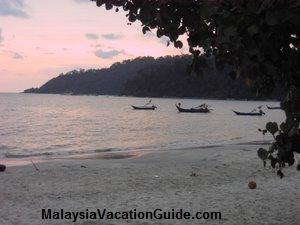 Fishermen doing their fishing.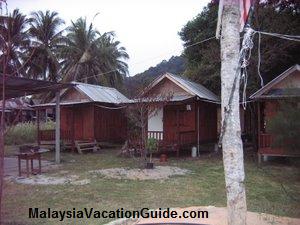 The chalets in Teluk Senangin.
Getting Here
If you are in Lumut or Sitiawan area, use the bridge that connects the town of Sitiawan to Segari. follow the signage to Kampung Acheh/Segari or Swiss Garden Resort and you will cross 3 beautiful bridges that provide a panoramic view of the Dindings River and the estuaries.
There are good signage that you can follow to the beach once you reached the junction to Swiss Garden Damai Laut.