Pasir Panjang Beach
The Pasir Panjang Beach in Segari is the longest beach in Manjung. Stretching about 8km, this still desolate and undisturbed white sandy beach used to be the nesting place for the Green Turtles that come from thousands of km away. In recent years, their numbers have declined and you will be fortunate if you can see any coming here.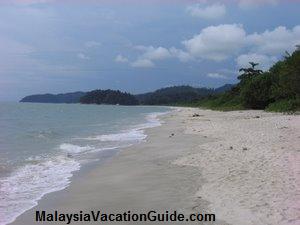 The stretch of white sandy beach in Pasir Panjang.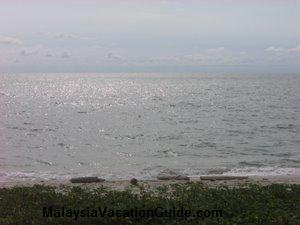 The desolate beach during the weekdays.
Due to their decrease in number, the Fisheries of Malaysia have set up a Green Turtle Hatching Centre in the year 1990. These eggs will be hatched in a controlled environment away from predators and they are then released into the sea after 5 months.
If you are into adventure and do not mind the lack of facilities here, head for this "not so crowded" beach with your family and you will enjoy your time here. Take along with you water, towels, mats, food and fishing rod as there are no shops around here. You will find many of the locals coming here for fishing during the weekends.
Swimming is possible but do not go too deep as the sea bed is not as gradual as Teluk Batik Beach. If the waves is strong, playing near the beach is recommended. This beach is also used for the sighting of moon to determine the fasting month of Ramadan and Hari Raya Puasa for the muslims.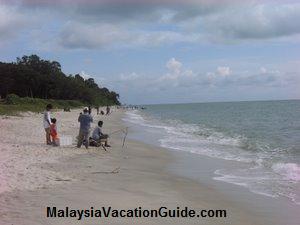 Fishing is a popular hobby of the locals at this beach.
Fishing enthusiasts come here to fish especially during the weekends.


Getting Here
If you are in Lumut or Sitiawan area, use the bridge that connects the town of Sitiawan to Segari. follow the signage to Kampung Acheh/Segari or Swiss Garden Resort and you will cross 3 beautiful bridges that provide a panoramic view of the Dindings River and the estuaries.
Go towards the Lumut Power Plant direction and you will reach the signage "Pusat Penetasan Penyu, Pasir Panjang Segari." Follow the direction and you will reach this beach in approximately 35 minutes, if you are coming from Sitiawan.