Serendah Fishing
If you are into pond fishing and is nearby Serendah, head for Kolam Pancing & Gerai Makan Danau Serendah where there are 2 big ponds that you can try your fishing skills. This place is just before the Serendah Waterfalls and is located at the left side of the road as you go towards the waterfalls. It is open daily up to 12am and until 1am during the weekends.

The signage at the entrance to Danau Serendah.
The charge is RM25 for 3 hours of fishing using "dedak" as bait. You are not allowed to use prawns, squid or small fish as bait reason being you will be catching most of the fishes in no time. The owner purchases different type of fish to be placed into the ponds regularly to ensure you will have enough fishes to catch.
The fishes that you may get here include "Tilapia", "Patin", "Haruan", "Keli" and "Ketutu". Once you caught them, they are yours to keep. You can also ask the shop owner to cook them for you. The other alternative is to sell them back to the owner of this place.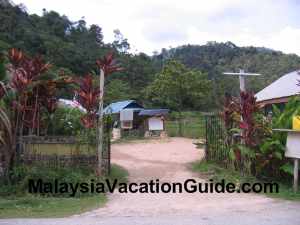 Front view of the fishing ponds.
Getting To Danau Serendah Fishing
This place is about 60km away from Kuala Lumpur and will take approximately 45 minutes to an hour to reach here. Use the NKVE highway and exit at Rawang toll. After the toll, turn right towards Rawang. You will pass by Rawang town. Certain stretches of the trunk roads are narrow hence you will have to drive carefully especially when traffic is heavy.
After Rawang town, continue towards Serendah and look out for the police station. Go straight and turn right at the traffic right towards Kg. Dato Harun. Keep going until and look out for direction towards Orang Asli villages. You will have to pass by those villages before reaching the fishing ponds.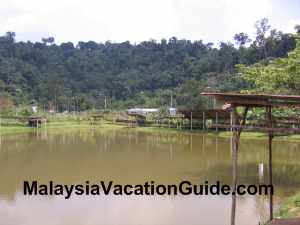 One of the two ponds for fishing enthusiasts to try their skills and patience.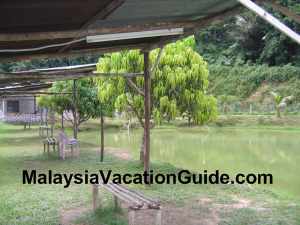 Huts with simple roofing all around the ponds.

Those who have GPS can key in the following coordinates:
N 03° 22.032'
E 101° 38.059'
You can also contact the operator of the pond at Tel: +6 019 638 1545. May be difficult to get as signal is not as strong here. This place is located quite a distance away from Serendah town.
This pond at the left hand side has bigger fishes but longer time to catch.
Another view of the pond. Good place for a time of recreation and relaxation. This place is far away from the busyness of city life. Many use their annual leave to pursue their fishing interest here.
Withing The Vicinity


Serendah Falls
Go further up the road and you will reach the waterfalls.


Telaga Tujuh
Another place you can stop by to see the unique seven wells.