Serendah Waterfalls
Serendah waterfall is not as popular as Kanching Recreational Forest Waterfalls as it is further away from the major towns and there is only a simple fall with limited pool space. It is located near the orang asli villages and is a good place for picnic and family outing if you have not been here before. There are parking bays available as well as basic facilities such as toilets, changing rooms and shelter with benches.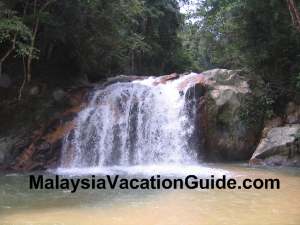 The waterfall at the base of the park.
Another waterfall as you hike up the hill.
There are some stalls which are operational during the weekends. Hiking up the hill and enjoy the cool air is another option that you can do while you are here.
Things To Bring and Advice
Bring your own water or purchase one from the stalls at the entrance. The stalls are usually open only during the weekends. Get a cap and sun lotion if you want to be shielded from the sun as you hike up the hill.
If you are thinking of playing in the water, remember to be careful and look after your children.

Admission Fees and Operation Hours
Operation Hours: 7am to 7pm daily.
Entrance Fees:
Entrance is free but you will be charged RM0.50 if you want to use the toilet/changing room.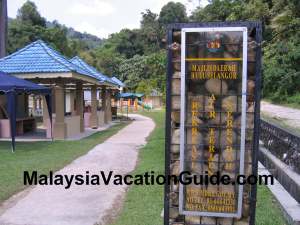 The entrance to the fall.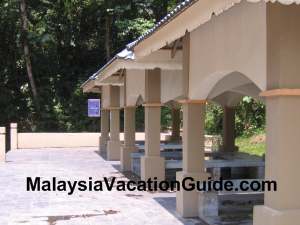 The simple benches and shelter for you to rest.
Getting Here
This waterfall is about 60km away from Kuala Lumpur and will take approximately 45 minutes to an hour to reach here. Use the NKVE highway and exit at Rawang toll. After the toll, turn right towards Rawang. You will pass by Rawang town. Certain stretches of the trunk roads are narrow hence you will have to drive carefully especially when traffic is heavy.
The bridge at the fall.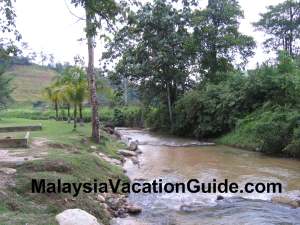 The water flowing downstream.
After Rawang town, continue towards Serendah and look out for the police station. Go straight and turn right at the traffic right towards Kg. Dato Harun. Keep going and look out for direction towards Orang Asli villages. You will have to pass by those villages before reaching the waterfall.
Those who have GPS can key in the following coordinates:
N 03° 21.962'
E 101° 38.197'